A recent Perficient webinar, Oracle FCCS: A Deep Dive, held a captive audience for the Q&A session well beyond the top of the hour. In this two-part blog post, I'll share the highlights of questions asked by attendees and answered by both Tony Coffman, Oracle EPM Practice Director at Perficient and Rajesh Bhatia, VP of Product Development at Oracle.
Our consolidations take upwards of 30 minutes on average. What is performance like compared to HFM?
Tony – Well, I'd say initial impressions, after many implementations, is very good. Obviously, it's built on the Essbase platform. Just like with HFM it depends how many entities you're consolidating. That was the biggest driver on HFM of consolidation times, as well as the number of periods you have to consolidate. On average, if you've got 100 to 200 entities and you're consolidating a single period, you're probably looking at two minutes to consolidate. If you're doing a full year, maybe 15-20 minutes. Again, that might grow as you have more entities. I think it's important to note that, just like with HFM and planning and the early days of those products, performance has evolved to where it is today. It's always getting better.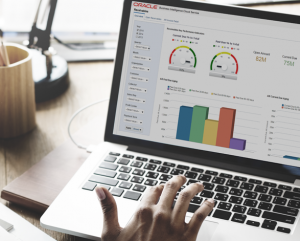 Explore key considerations, integrating the cloud with legacy applications and challenges of current cloud implementations.
With regard to features of the HFM, like process control and advanced ownership that are not available in FCCS, when can users expect that to be added?
Rajesh – Our goal is by September, we have parity with most of the HFM items mentioned here. Today, in our offices, we have a set of partners and consultants, including Perficient, that are testing out and validating some of these capabilities that we plan to release in the next four to six weeks. We're very confident the capabilities like the ability to extend your dimensionality, the ability to configure your calculations, ownership management, ability to override translation rules, and consolidation configuration options will be made available within the next four to six weeks. Additionally, we are also releasing this concept of robotics automation as part of our closed manager functionality. You can imagine in FCCS, using the closed calendar capabilities, you will able to automate and orchestrate activities across cloud applications and against your on-premises offerings as well. We do that all in mind with scalability and performance in the consolidation side. An exciting time ahead of us.
Regarding the limit of 1,000 entities, when this limit will this be increased?
Rajesh – As part of the ability to extend the dimensionality, now you'll be able to have up to six custom dimensions. We're actually changing the underneath version of our consolidation engine, which will be far more powerful and be able to give you additional expanded dimensionality. Our goal is to reach to the bigger enterprise class HFM customers and let them know FCCS is a viable option both from a performance standpoint, for the size of the application you have, and the dimensionality you have. If you are on an older version of HFM, you're considering an upgrade to, let's say, 11.1.2.4, FCCS would be a viable option for you to consider as well.
How many HFM applications can you create in FCCS?
Tony – Unlike HFM, where you have the ability to create many apps based on your license, this is a subscription, and you're subscribing to essentially an instance of a pre-built application. You have one application available to you under that particular subscription, and if you needed more HFM applications, you'd have to subscribe to another instance. What we'd like to understand is exactly why you have to have two applications and make a best practice recommendation around that. Sometimes that's for security reasons. Sometimes it's for granularity reasons. Sometimes HFM is being used for the wrong purpose. Today, you get one application per instance, and you have the ability to subscribe for more instances if you need them.
Safe Harbor Disclaimer: Statements in this blog post relating to Oracle's future plans, expectations, beliefs, intentions, and prospects, including statements regarding expectations of future release functionality, are "forward-looking statements" and are subject to material risks and uncertainties. Many factors could affect Oracle's current expectations and actual results, and could cause actual results to differ materially. A discussion of such factors and other risks that affect Oracle's business is contained in Oracle's Securities and Exchange Commission (SEC) filings, including Oracle's most recent reports on Form 10-K and Form 10-Q under the heading "Risk Factors." These filings are available on the SEC's website or on Oracle's website at http://www.oracle.com/investor. All information in this blog post is current as of July 26, 2017, and Oracle undertakes no duty to update any statement in light of new information or future events.