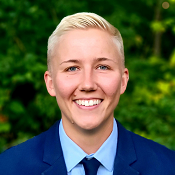 Perficient promotes an inclusive culture where every colleague is challenged, championed, and celebrated. Our award-winning culture attracts and retains proficient people like Courtney Haupt, senior technical consultant. Courtney joined Perficient after receiving a referral from a trusted peer, and she has continued to learn and grow during her time here. Continue reading to learn more about her role, her experience at Perficient, and how she is making a difference.
What is your role? Describe a typical day in the life.
As a senior technical consultant, I help clients better leverage their data. I assist and advise teams when migrating data and infrastructure to Google Cloud Platform (GCP). My client is new to GCP, and I can identify areas where Perficient can provide experience and value in their migration journey.
READ MORE: Perficient is a Google Cloud Premier Partner
What is one of your proudest accomplishments professionally?
Perficient is my first experience as a consultant, and I am proud of my adaptability and the reviews I have received from my managers at Perficient and on the client side. I'm motivated by providing value and solutions to our clients that they didn't know were possible.
Whether big or small, how do you make a difference for our clients, colleagues, communities, or teams?
Flexibility is my biggest asset when making a difference for our clients. When I first joined the team, our client needed a GCP crash course and asked me to fulfill the requirements of a data engineer. After some time, the need arose for a Dev Ops resource. While my Dev Ops experience was limited, I volunteered and began learning on the job. I am now my team's main Dev Ops resource and have learned many valuable skills both for my role with the client and increasing my value at Perficient.
READ MORE: How Perficient Colleagues are Making a Difference
What advice would you give to colleagues who are starting their career with Perficient?
Be a sponge! There's always something new to learn and an opportunity to grow everywhere. I've experienced the most growth in my career when I'm doing hands-on learning, and occasionally failing, in order to grow from mistakes.
Why did you choose Perficient, and what keeps you here?
I was referred by my mentor and friend, Dr. Chuck Brooks. I strive to become a technically proficient manager like him. We have had a long-lasting friendship and work relationship. I met him at my first job out of college and wasn't sure how to best leverage my degree. Dr. Chuck took me under his wing and taught me the power and importance of data, turning his passion into mine.
I stay because I have fun, learn a lot, and feel valued at Perficient. Before joining Perficient, I was regularly doing the work of five or six different people in one role. Since joining Perficient, I'm focused on one client, so the depth of work, knowledge, and understanding of the project at large is much more comprehensive. I'm also able to build much deeper relationships with my team because of this.
READ MORE: Perficient Builds Culture and Connections
What are you passionate about outside of work?
My passions outside of work include playing slow-pitch softball, golfing, axe throwing, hiking with my dogs, and attending concerts and music festivals.
---
It's no secret our success is because of our people. No matter the technology or time zone, our colleagues are committed to delivering innovative, end-to-end digital solutions for the world's biggest brands, and we bring a collaborative spirit to every interaction. We're always seeking the best and brightest to work with us. Join our team and experience a culture that challenges, champions, and celebrates our people.
Visit our Careers page to see career opportunities and more!
Go inside Life at Perficient and connect with us on LinkedIn, YouTube, Twitter, Facebook, TikTok, and Instagram.