Salesforce Data Cloud is a real-time, unified data platform that helps businesses connect, harmonize, and engage with their customers. It provides a single view of the customer across all channels, enabling businesses to deliver real-time personalized experiences. Data Cloud is powered by artificial intelligence (AI) and machine learning (ML), which help companies to automate tasks, improve decision-making, and drive revenue growth.
Einstein GPT is a generative AI CRM technology that combines Salesforce proprietary AI models with generative AI technology from partners, public large language models (LLMs), and real-time data from Data Cloud. It can be used to create personalized content for customers, automate tasks, and generate predictions. Einstein GPT is built on top of Salesforce's Einstein Platform, which provides a foundation for AI and machine learning applications. It uses a generative pre-trained transformer (GPT) model, a type of neural network trained on a massive dataset of text and code.
Our View on Data Cloud and Einstein GPT 
The combination of Data Cloud and Einstein GPT creates the foundation of Salesforce capabilities for the foreseeable future. The ability to unify disparate data sets, generate personalized content, and automate tasks will drive accelerated value from the Salesforce platform and its industry clouds.
Data Cloud and Einstein GPT are two powerful tools that help businesses improve their data management, customer engagement, and operational efficiency. By combining these tools, businesses can gain a deeper understanding of their customers, create more personalized experiences, and automate tasks to free up employees to focus on more strategic initiatives.
The following are examples of how businesses can use Data Cloud and Einstein GPT to improve their operations:
Unify disparate data sets. Data Cloud can be used to unify data from a variety of sources, such as CRM systems, marketing automation platforms, and third-party data providers. This can help businesses gain a 360-degree view of their customers and make better decisions about marketing, sales, and customer service.
Generate personalized content. Einstein GPT can be used to generate personalized content for customers, such as emails, landing pages, and sales proposals. This content can be tailored to customers' interests and needs, which can help improve engagement and conversion rates.
Automate tasks. Einstein GPT can help automate tasks, such as generating leads, scheduling appointments, and sending follow-up emails. This can free up employees to focus on more strategic tasks, such as building customer relationships and developing new products and services.
Data Cloud and Einstein GPT in the Financial Services Industry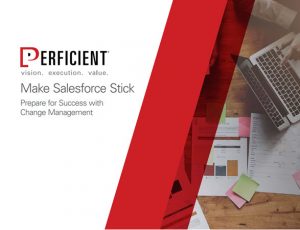 To ensure your Salesforce implementation or migration goes as planned, our team of change management professionals discuss how to manage the transition process to ensure your team is ready, willing, and able to perform effectively in the new environment.
The uniquely enhanced view of the customer that only Salesforce can provide financial institutions with can drive the industry forward in ways we've yet to see. Consumers don't just want personalized and comprehensive digital experiences but have come to expect them. Financial service companies can keep up with these expectations by utilizing predictive analysis technology that tracks customer data and predicts future consumer decisions and market trends. This is where Data Cloud and Einstein GPT come in.
Data Cloud helps financial organizations with a multitude of growing concerns in this changing marketplace. For example, cloud-based security solutions protect financial security systems and detect and prevent cyber threats. It can also provide the bandwidth and insights needed to begin creating new online digital products and services that customers are looking for like digital wallets and mobile banking apps that consumers look for. Arguably the most important function of Data Cloud is that it helps clients unify their data from a variety of sources to segment customers and keep a close eye on their customers' behaviors. Doing so will offer them the insights needed to tailor services and develop highly personalized products that can be presented to the most relevant customers at the right times. This can be key to increasing market share and customer retention as the top reason customers give for switching financial institutions is a desire for a better digital experience.
Augmenting Workflows through Einstein GPT
Similarly to those benefits, institutions might find that leveraging the power of AI, specifically Einstein GPT, can help augment workflows across every business function. It speeds up but also simplifies traditional data processes that often monopolize time better spent improving the overall customer experience. Resources from Einstein GPT like chatbots, NLP models, and custom applications through API Additionally, AI advancements are making it possible for banks to detect and prevent fraud like never before. These are only scratching the surface of what the world's first generative AI for CRM can do.
"AI is only as good as the data that powers it" – and with the combination of Einstein GPT and Data Cloud, the abilities of Salesforce clients in the financial services industry are growing at exciting speeds. Financial institutions that capitalize on data and AI technology now are positioning themselves well to maintain their competitive edge while meeting the changing demands of customers.
Perficient's Salesforce and Financial Services Expertise 
Our dedicated financial services practice builds personalized solutions that work to redefine the industry and address critical challenges. We are a Salesforce consulting partner with more than two decades of experience delivering digital solutions for financial services clients. Our team has the experience in consulting, organizational change management, and Salesforce technologies to accelerate time to market and grow your business
See more about Perficient's Salesforce + Financial Services expertise here and contact us if you want to get started on your digital transformation journey.