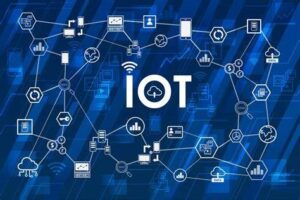 Have you ever wondered how wonderful it would be if things like switching on lights, opening the doors, email replies, etc. which we require in day-to-day life become automated? Life would become easier, and humans will be able to take out time for themselves. Well, this is now possible thanks to AI and IoT. So, lets deep dive into the topic.
WHAT IS IoT?
The "Internet of Things" IoT concept is more extensive than you realize. The Internet of Things is primarily about the items we use on a daily basis and is practically everywhere. Simply said, it is a system that links two devices or the Internet to carry out a task. Any digital device, including smartphones, computers, machinery, and appliances (such as refrigerators and washing machines), could be the culprit.
The Internet of Things is pervasive and covers everything. It has had a significant impact on people's lives all across the world. If we said that the internet of things mostly influences our daily activities and what we do, we wouldn't be wrong.
But how do all these gadgets share such massive amounts of data is the real mystery. and how do we use that knowledge? The Internet of things connects various types of information, whether it be updates to the city on parking availability or improvements to industry production or even personal health monitoring. It gives the gadgets and applications a common language to communicate with one another.
The devices start the process off by securely communicating with the internet of things. This technique integrates data from many devices before sharing it to meet industry demands.
For more more information: click here
Background of Internet of Things:
The Internet of Things has been around for a while; it came to light for first time in 1980s, but circumstances have changed since 2010. IoT technology and appliances have proliferated worldwide as of 2019. Every day, the Internet of Things becomes more intelligent. Every industry has it, and both homes and businesses use it.
IoT appliance adoption is widespread among businesses, and it is growing on daily basis. In 2018, 164 billion dollars on average were invested globally in IoT technologies. Additionally, in less than five years, it is predicted that the amount of money would expand ten times. The consumers' embrace of new technologies is what drives the expansion.
WHAT IS AI??

Artificial intelligence is a broad concept when we discuss it. Since we all utilize smart products or devices in our daily lives, the concept is even easy to comprehend.
Every family has technologies like cell phones, laptops, and televisions in addition to appliances like refrigerators and televisions. Every home has at least one internet-dependent device, and we all regularly use them. The only idea that people grasp and are aware of about device operation is that it requires an internet connection to function.
Artificial intelligence (AI) describes how intelligent machines can function. AI enables machines to carry out tasks like a person and enables them to learn from experience. Artificial intelligence is now present everywhere, from basic computer games to sophisticated robots that do out tasks. Millions of individuals use artificial intelligence, which has applications in a variety of fields including home, healthcare, education, and many more. Machines with artificial intelligence are capable of carrying out tasks with human intelligence.
HOW DOES AI POWER IoT?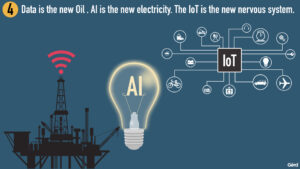 1. Improved user experience: AI enables IoT devices to learn user preferences and behave in accordance with those choices, resulting in a customized user experience for each user.
2. Increased productivity: AI clears the IoT's continuous data stream and identifies clear patterns to improve decision-making skills. AI and machine learning combined can even go so far as to predict the operating environment and adjust the parameters to the perfect levels to produce the best outcomes each and every time.
3. Less unplanned downtime: Machine malfunctions and operational failures frequently cost businesses a lot of money and detract from the customer experience. But because the functionality of IoT devices connected with AI is continuously checked, this issue may be avoided. As a result, AI can evaluate and detect errors well in advance.
4. Risk management: By integrating AI into IoT, firms can better understand and evaluate IoT, as well as the dangers associated with it, and develop automatic solutions. In the long term, this aids in managing financial loss, employee security, and threats of cyberattack.
Let us take an example of:
 VIRTUAL ASSISTANCE:
Alexa for Amazon Echo smart speakers are similar to Siri in iPhones, Google Assistant in Android devices, and other Google gadgets. You may activate these virtual assistants by using the wake word, such as Hey Siri, Hey Alexa, or Hey Google. Also, you can inquire about the weather, the news, and more. And you may ask the Amazon voice assistant to make calls, switch off a light, check the status of a security camera, and do a lot of other things because she is compatible with other smart devices. These virtual assistants are becoming more intelligent and knowledgeable every day.

AI POWERED IoT TECHNOLOGY USE CASES
Have you ever wondered how consumers and businesses use IoT technology? The use of AI and IoT together is illustrated by the instances listed below. The case demonstrates how IoT and AI help offices to increase productivity. By excluding it from non-human movements, it takes care of security management image recognition tools that comprehend human movement.
Following are some examples:
1: Using AI and IoT in offices to increase productivity.
2: Using AI and IoT to identify human movements over object motions in security cameras and door lock system.
3: Using AI and IoT in biometric system.
4: Using AI and IoT for smart irrigation system.
5: Using AI and IoT for building smart homes.
Using AI and IoT in offices to increase productivity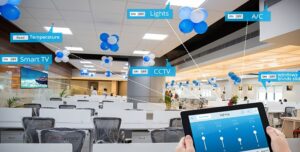 The majority of us now spend a lot of time in offices as part of our daily routines, and smart gadgets are a part of both. In order to increase work efficiency, IoT and AI devices are frequently utilised for tasks including meeting scheduling, risk management, adjusting room temperature, and website monitoring.
IoT devices make it simple to manage these activities without occupying much of your time. You may quickly streamline the process with these clever tools. Efficiency is important in every industry, but it's especially important in one that's evolving quickly, like a mobile-based business.

Using AI and IoT for building smart homes:

Personalized and predictive automation, together with predictive maintenance, are two examples of AI-powered and IoT-enabled apps that will improve the user experience and add value to smart homes by making life more secure, cosy, convenient, and safe. The markets for smart homes are expanding primarily as a result of AI and IoT. Home automation solutions have gotten more accessible, making smart living with automation and integrated AI-IoT less of a luxury. A cloud-based intelligence or local hardware can both offer smart home control.
BOTTOM LINE:
From the boardroom to the farm, the house to the healthcare industry, AI-powered IoT devices are present everywhere. They assist us in carrying out our daily tasks, offer security for our homes and workplaces, and promote improved agricultural and health care. When AI and IoT are combined, it is possible to take actions in advance, analyze data, make predictions, and automate processes for a variety of purposes.
We are aware of the power of AI and IoT thanks to tech behemoths like Google, Amazon, Tesla, Uber, and others that grasped its potential. IoT devices with AI capabilities will have a major impact in the future.
For more blogs: click here