In this blog post, we will explore custom application development and its role in application modernization. Read about the first, second, third, and fourth pillars of application modernization.
Custom Development within Application Modernization
Businesses can no longer survive with generic digital offerings that simply mirror their competitors'. Escalating customer expectations and the rise of startups born in the cloud have made it imperative to modernize existing systems and deliver innovative solutions at an accelerated rate. If you truly want to own your digital transformation, you need to develop your own customer-facing solutions that not only deliver your core offerings but elevate and differentiate your position in the market.
Custom application development involves taking a fresh look at your core offerings and processes and designing solutions to transform your business. Building custom digital products on top of a modern, reimagined infrastructure empowers companies to quickly reconfigure structures and capabilities and effectively leverage data to adapt to the emerging needs of their customers. Custom software products can take your application modernization a step further than simply lift and shift by rearchitecting your critical business systems to build a foundation for future innovation.
When to Build a Custom Product
When undertaking an application modernization initiative with custom development, you want to be proactive versus reactive. Unfortunately, many companies decide they need to build a custom software product when deficiencies in their legacy systems have become too costly to ignore. Some common scenarios that indicate an urgent need for a custom product are:
Repeatedly losing business to competitors due to a poor user experience or missing features and functionality
Challenges maintaining, increasing performance, or enhancing existing solutions
Inability to quickly deploy new features and functionalities
Redundancies and delays within the development lifecycle due to lack of integration between systems
Ineffective sharing of data between siloed applications
Aging platforms are reaching the end of life support or no longer align with business goals
Taking a proactive approach to application modernization and custom development can prevent these scenarios from escalating and causing irreparable damage to your brand.
Perficient's Custom Development Process
Developing a successful SaaS product is not a linear process, it requires a scalable, iterative approach that enables future innovation. Perficient's approach to custom development focuses on building solutions with longevity by establishing Agile processes and designing architectures that will be easier to enhance and maintain over time.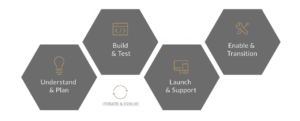 Understand & Plan
First, Perficient conducts a comprehensive assessment of your current systems, architectures, and processes to identify opportunities and develop concepts. Through this assessment we can determine which business-critical applications can be salvaged and which will require a complete overhaul.
Planning is the most critical phase in any modernization and custom development project. We collaborate with you to develop a digital product strategy that aligns with your overall business goals and works toward an envisioned future state. We use our technical expertise select the optimal technology stack and frameworks to build an effective custom product and achieve your vision.
Build & Test
During the build phase of the project, Perficient manages the engagement and executes against the defined strategy with a laser focus on the initial project goal. We integrate our teams with yours in an Agile methodology, working together through the sprint, planning, testing, release, and retro. We scale up as direction is set so that parallel work streams can be supported. Our Optimized Global Delivery capabilities allow us to scale globally, increasing velocity while reducing the average cost per resource.
Launch & Support
Perficient helps you determine the best deployment strategy (pilot, beta, user segment, etc.) and release. Upon launch, we directly address issues and feedback, continually enhancing and optimizing to ensure a positive end user experience.
Enable & Transition
Perficient shares knowledge to upskill your team's resources throughout the development lifecycle. This facilitates a smooth transition of ownership to your development, operations, and support teams, or Perficient's Managed Services team.
Iterate & Evolve
Throughout the project lifecycle, we learn from experience and continue the steps from the build and test phase for increased velocity and optimization.
Perficient's Application Modernization Expertise
The world's leading brands partner with Perficient because we have the resources to scale major custom application development projects. We partner with leading technology companies to help Fortune 1000 clients across all industries, and we've been recognized by analysts as a top service provider for application modernization and migration.
Contact us today to get started on your application modernization journey.