Salesforce provides a huge diversification in a different types of clouds for customer relationship management, i.e., CRM. Salesforce's Customer Relationship Management (CRM) provides services on Sales Cloud, Marketing Cloud, Commerce Cloud, Service Cloud, Community Cloud (including Chatter), Analytics Cloud.
In this segment, we will focus on an overview of Salesforce Service Cloud. Salesforce based its Service Cloud on its Sales Cloud product, a top-rated product for organizations that manages their sales activity on the cloud.
Salesforce Service Cloud enables its users to automate workflows and service processes and provide their service agents with proper keys and knowledge articles to streamline customer service. The sole aim of Service Cloud is to build a strong one-to-one service relationship with every customer across multiple channels and devices.
Salesforce Service Cloud is a perfect match for your organization when you need advanced, cloud-based customer support and service tools to truly connect to your customers. Some of the below tools mentioned are frequently chosen by the organization.
Case Management
Internal Collaboration Tools (Chatter)
Knowledge
Service Contracts and Entitlements
Telephony Integration (CTI)
While purchasing a Salesforce Service Cloud license, if you're not sure which Edition you will need for your organization, always start with the lower cost edition. Salesforce allows you to upgrade the edition any time throughout your timeline, but it doesn't allow you to downgrade until your contract renewal. You can always start with Service Cloud Essentials or Service Cloud Professional Editions and work your way up, gradually understanding the need for the perfect Edition for your business.
Service for Apps makes it possible to embed customer support software into applications. In-app mobile support can include live agent video chat, screen sharing, and on-screen guided assistance. The software is also integrated with Salesforce Community Cloud, which provides more communication channels for agents and customers.
Following are some key business goals achieved by Service Cloud:
Personalized service: Give each customer a good experience based on their distinctive blockers, purchase history, and complaints.
Always on service: Try to build a team that is available 24/7 to provide solutions to customers waiting to solve their problems.
Multi-channel support: Service cloud has made it possible for customers to choose a comfort channel for reaching out to product service agents. A channel can be in any form, such as mobile, desktop, or phone call.
Faster Support: Service cloud has enabled managing various services from a single point console, which helps deliver support services faster.
Let's discuss aspects of Service Cloud which helps in accomplishing important pursuits for better customer service.
Console for service: It is a combined platform for managing all cases assigned to an agent to help prioritize the available tasks. This also helps in giving the customers a personalized experience.
Knowledge base: Every new problem or issue with some unique solution is captured in the knowledge base. This helps service agents give faster solutions to customers with the same issue and customers a pleasant experience.
Social Customer Service: As more and more customers connect with the organization through social media, this feature helps deliver service on the social media platform without asking the customer to visit separate web pages for interaction.
Live Agent: This feature provides real-time online help with its unique chat service.
 Service Cloud Communities: It allows customers to help themselves by helping each other. Many tools are available for self-service on various troubleshooting requirements.
Let's start setting up the Service cloud for your organization.
There are some basic things you will need to set your service console. You can create different service processes for different products provided by your organization. In this segment, we will learn how to create a Process to manage Support cases and assign that Process to the Case object record type.
Note: If you don't have a Salesforce Trailhead account, it is recommended to create an account on Trailhead and get a playground or Developer Edition org for hands-on practice.
Steps for creating a Support process:
1.   Log in to your Salesforce/Playground org account.
2.   Navigate to set up and in the quick find bar search for Support process.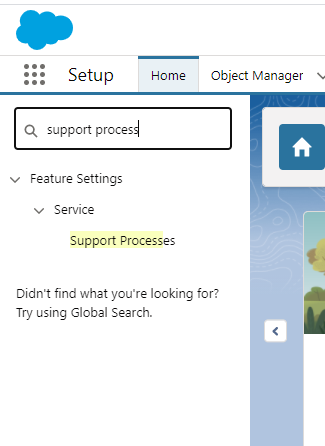 Image 01: Support Process
3.   Click on New.
Existing Support Process: Master
Support Process Name: Product support process
Description: Process for logging product support cases.
Image 02: New Process
Image 03: Creating a new process
Click Save.
Image 04: Process list view
Once we have created a process, the next step would be to assign this process to a Case record type.
Steps to create a record type for Case object:
1.   Navigate to Object Manager and search Case.
2.   In the Case object, open Record types.
3.   Click on New to create a record type.
Existing record type: Master
Record type Label: Product support
Support Process: The product support process
Description: Record type for product support cases.
Image 05: Creating a new record type.
4.   Make sure the record type is Active.
5.   Give access to the record type to all the necessary profiles by selecting the checkbox on the Make available column.

Image 06: Profile level access
6.   You can apply different layouts to the profiles, but we will apply one layout to all the profiles.
Image 07: Assigning page layout
7.   Click Save.
The reputation of an organization is directly connected to the quality of service provided by the service agents. Imagine yourself dealing with a service agent who keeps you waiting hours together for providing a solution, and still, you are not satisfied with their service. Now, will you ever suggest this organization to your friends, family, or colleagues for purchasing their product because of one botched-up service?
In conclusion, the Service Cloud tries to provide product customers a faster and effective way to solve their problems and makes it easy for their service agents by providing all the resources they need to converge the cases assigned to them on a single platform.