This is the second post in our blog series about Healthcare Interoperability with MuleSoft. Click here to read the first installment. 
As we've introduced in the previous blog, interoperability in healthcare plays a critical role in exchanging health information seamlessly and securely. With regulations like the CMS Final Rule, data such as the below can be made available and shareable: 
Patient Record API

 

Provider Directory API

 

Payor to Payor Transfer

 

Notification of discharge and other events

 

BlueButton

 
Adding a FHIR API on top of your Electronic Health Record (EHR) system connects disparate data across systems to standardize patient data and create accessibility to payers, providers, and patients. Patients with providers in different healthcare systems can access information via a single portal. This portal integrates data from different formats and delivers a comprehensive view of the patient (including allergies, care plans, health issues, and medications). 
The MuleSoft Accelerator for Healthcare
Beginning your healthcare interoperability journey with an enterprise tool allows you to address challenges once, rather than relying on a rapid fix to meet requirements. This helps relieve additional costs down the road, as non-interoperability integrations are typically not handled by niche vendors. An enterprise tool like MuleSoft enables you to reduce costs by addressing challenges all at once, rather than relying on rapid individual solutions to meet requirements.  
MuleSoft is recognized as a leading solution for API management and enterprise integrations. MuleSoft supports enterprise-scale healthcare interoperability plus healthcare standards like HL7, FHIR, DICOM, and others, to power single-platform solutions that transform clinical and non-clinical delivery. The MuleSoft Accelerator for Healthcare enables healthcare organizations to address interoperability concerns, including regulations such as CMS Final Rule and helps to build larger digital transformation initiatives like Patient 360. The accelerator includes pre-built APIs, connectors, integration templates, and a prescriptive end-to-end architecture. The solution also provides a library of USCID and FHIR R4 resources. 
By leveraging the MuleSoft Accelerator for Healthcare, customers don't need to reinvent the interoperability wheel. The pre-packaged architecture and API templates jumpstart customers on their interoperability journey. A customer can have their platform up and running with their first API built in as soon as in 2-4 weeks. 
MuleSoft not only provides the platform and accelerator, but brings its entire API ecosystem to the customer, which includes standards and best practices, developer frameworks and templates, and governance like a Center for Enablement (C4E), thus setting organizations up for long-term success. 
Perficient + MuleSoft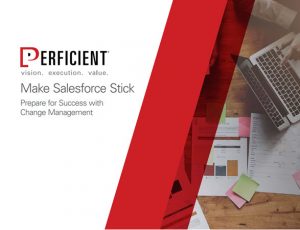 To ensure your Salesforce implementation or migration goes as planned, our team of change management professionals discuss how to manage the transition process to ensure your team is ready, willing, and able to perform effectively in the new environment.
At Perficient, we excel in tactical MuleSoft implementations by helping you address the full spectrum of challenges with lasting solutions, rather than relying on band-aid fixes. The end result is an intelligent multifunction resource that reduces costs over time and equips your organization to proactively prepare for future integration demands.
We're a Premier MuleSoft partner offering integration expertise that's strengthened by our extensive healthcare know-how, particularly when it comes to safely using, transporting, and securing healthcare data.
Ready to achieve interoperability? Download our interactive guide!
Download our guide, An API-Led Approach to Interoperability in Healthcare With MuleSoft