People have been talking about content marketing for years. Creating web pages that generate leads and help move clients through the buyer's journey can produce bottom-line results and be more cost-effective than advertising or other paid methods. The effects of good content marketing can be long-lasting, offering ongoing engagement while other tactics capitalize on shorter-term opportunities.
Blogs are often used as starting points for companies' content marketing efforts, but content hubs provide a more powerful way to publish evergreen content. Our study on the benefits of using a content hub shows:
Over 90% of blog content is evergreen — relevant to your audiences regardless of how long ago they were published. On blogs, content is pushed further from the top as more is posted over time, deprioritizing it in the eyes of readers and Google. On the other hand, content hubs provide you with direct control over how the content is arranged and served.
Two-thirds of blog pages reviewed were more than five clicks away from the home page. When content is that far removed from the home page, it will unlikely rank for anything in search — unless it has earned external links.
The site structure of a blog necessitates many pages that aren't good targets for indexation and ranking by Google, such as category pages, paginated pages, tag pages, and date archives. These defeat your purpose, as Google ends up crawling these pages, which contain no SEO value, rather than focusing on pages that do.
Implementing content hubs is a significant undertaking for most businesses and requires careful planning and budgeting. We follow these nine steps when initiating content hubs with our clients:
Determine Goals
Know Your Audience & What Works
Audit Existing Content
Define Architecture
Ideate
Create a Content Roadmap and Management Systems
Write Well and Optimize
Promote
Measure & Improve
You'll want to collaborate extensively throughout the process. Working closely with internal stakeholders on your SEO, product, marketing, promotion/PR, and sales teams will help create the most impactful results — providing transparency to activity and progress against goals.
Step 1: Determine Goals
Content marketing is a marathon, not a sprint. Seeing results for content hubs can take up to six months, and consistent review and content creation will be needed. Setting expectations from the outset will ensure that your management team isn't expecting results overnight when that's not achievable.
To start, define what success will look like together with your stakeholders. Some measures you may want to consider are:
Awareness and Consideration: Understand how content impacts brand awareness and perception. These metrics can inform content development based on how readers are accessing and consuming content. Measures may include brand mentions, inbound links, ranking keyword universe, and visits.
Conversion: While content is a longer-term investment, understand how it supports business goals and sales metrics in the short term and how content moves users down the funnel. Measures may include click-through rates, conversion rates, and bounce rates. And well thought out content marketing programs can deliver a directly positive ROI.
Retention and Advocacy: Tracking this will reveal whether users are coming back to learn more. Identify what pages, content types, and topic areas are performing well and resonating with target audiences. Measures may include new vs. returning visitors, highest and lowest performing article categories and articles, and the highest and lowest performing social and influencer content.
You'll want to balance the effort needed to generate the data with the value of the data and be clear about why you measure each metric. Setting a baseline and goals for each will provide easy ways to communicate with other stakeholders on progress and help you identify potential areas of concern early so you can address them or pivot to build on what's working well.
Step 2: Know Your Audience and What Works
Once you have your goals set, it's time to get clarity on your customers and how to engage with them.
Understanding the market and competition is an excellent place to start. Spend time reviewing the content produced by your competitors to identify how to outperform and differentiate. We set up a comparison grid to ensure we're comparing apples-to-apples for consistency. Reviewing both quantitative and qualitative measures will offer a more well-rounded picture:
Quantitative measures may include the number of content pages, keyword rankings and estimated traffic, quantity, and quality of backlinks, pace and cadence for publishing, and success in getting your content shared by others on social.
Qualitative measures may include content quality, navigability, breadth, and depth of information, the authoritativeness of writers, and content types.
Perhaps your company has already invested the time and money into generating high-quality personas and journey maps. If not, or if they're not recently updated, now would be a smart time to undertake that effort.
Personas are a depiction of an audience segment. They enable your team to focus on a specific group and take their point of view as they create content and web experiences. Personas are central to developing personalized web experiences and forming the baseline for consistent and engaging web development from architecture to design to content. Creating true-to-life personas requires research and analysis, including interviews, surveys, focus groups, and quantitative analysis of online and offline behaviors. The number of personas is determined by the number of types of customers you identify in your research. Some frequently included characteristics include:
Demographics: Age, Gender, Location, Education Level, Income Level, Job
Psychographics: Interests and Hobbies, Top Reasons for Purchase or Activity, Core Values
Behaviors: Buying Styles and Hesitations, Social Media and Technology Use
To complement the personas, we develop journey maps. Buyers' journeys follow the steps a potential customer goes through that lead to their purchase and, hopefully, long-term loyalty. It follows them through the stages of becoming aware of a need, considering different options to fill that need, selecting a choice, and living with their chosen selection. Frequently, buyers' journeys can be determined while conducting research to inform personas. You will likely need multiple journeys, depending on the types of personas and complexity of offerings. One way to go about this process is to set up a matrix — create stages across the top and categories on the left, such as:
What They're Doing
What They're Saying
What They're Thinking
What They're Feeling
Desired Takeaway
If you don't have a current, reliable style guide and brand guidelines, now is an excellent time to create or update them. Include the guidelines for voice, tone, grammar, usage, and design elements such as logos, fonts, and colors.
Step 3: Audit Existing Content
Next, you'll want to evaluate what content you have on your site, what's performing well and what isn't. To create this understanding, we recommend conducting a comprehensive content audit. It's worth documenting everything at this point — having that reference will be invaluable as you get into content development.
Again, we recommend evaluating both quantitatively and qualitatively to get the complete picture possible, and using spreadsheets to capture your insights:
Quantitative review may include traffic, conversions, keyword rankings, inbound links received, social sharing of your content, and publishing dates.
Qualitative review may include quality of text and imagery, responsiveness for devices and screen sizes, content types, alignment to user intent and customer journey, and CTA quality and obtrusiveness.
This review will provide an opportunity to consider whether any existing content could be repurposed or optimized to include in your content hub. Content housed in blogs, newsrooms, or landing pages can be an excellent way of getting a content hub up and running quickly.
Step 4: Define Architecture
You'll want to determine where on the site the content should "live." The strategic content organization allows both users and Google to efficiently find what they're looking for, engage, and convert. We recommend creating a logical folder hierarchy, using frequently searched terms, and following a consistent pattern for creating URLs. The content hub should be one click from the home page, if possible, to maximize the value of the pages. It's also best practice to naturally weave priority keywords into the page URL:
Main Hub Page: example.com/content-hub
Category Page: example.com/content-hub/category
Article Page: example.com/content-hub/category/keyword-rich-page-title
Navigation is also essential. Making content easy to find with logical breadcrumbs, related resources, tables of contents, tags, and tabs can make information easy to find and move from one idea to the next. Think about how you want your readers to navigate, what makes logical sense, and use unambiguous language.
Defining a structure will help create order and logic for both readers and Google. Common types include Hub and Spoke, Content Database, and Content Library, among others. Define what your content should be based on how you want readers to navigate and what will make the most sense to a "usual person." Consider creating a couple of layouts and mocking up how it will work, then testing it out on your team and stakeholders. Also, review high-performing competitors for additional ideas.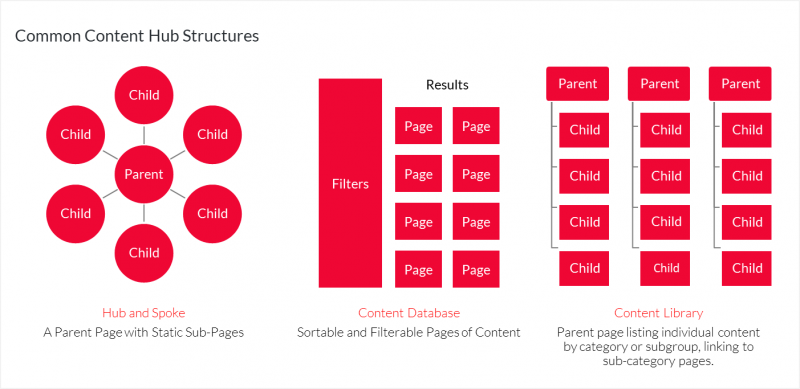 Step 5: Ideate
With all your research complete, it's time to do what people always think is the fun part — ideation and brainstorming. While these provide an opportunity to stretch your creative muscles, there are many inputs to take into account.
Leveraging your journey maps, personas, competitive information, and audit results allow you to create a content framework. We sometimes start our content frameworks in the same worksheet as the buyer's journey, adding extra rows to each step in the buying process for content themes and content types.
Content themes define the types of questions the content should answer. For example, in the awareness phase, content themes might be built around brand trust, value, and options.
Content types define the form. You may include top-of-funnel content like articles, infographics, social media posts, video "quick tips," and quizzes or gamification in the awareness phase.
In your audit, you likely found the content to migrate. Map these to the content framework and define which can simply be moved and which will need updating to hone to the journey phase or change to another content type. Once you've completed that, you'll be able to see where there are gaps and where you may need to better differentiate between two pieces of content that are too similar or combine elements and redirect to the new page.
The gaps are opportunities for new content creation. Define new topics to fill the gaps, again leveraging your competitive research, keyword research and analysis, and knowledge of your customers and your business. Brainstorm ideas with your content teams, subject matter or product experts, and sales and customer service teams.
Step 6: Create a Content Roadmap and Management Systems
With your ideas in hand, you'll need to prioritize and do a reality check to define a content roadmap or editorial calendar. An editorial calendar is more than just a chart showing publishing dates. It should include content topic and type, responsible parties, persona targets, journey phase, and a promotional plan. It should also define the level of effort required to complete the writing and whether you'll need to leverage other stakeholders such as experts, legal, SEO, development, or design.
Determine how many hours per month your content developers have, and then prioritize your ideas into a schedule. It may seem overwhelming at first, with a real content hub to fill. Using a consistent methodology will help. Focus on the journey and filling gaps and supplement with keyword research and validation. You can also focus on the needs of the business first — to support the launch of a new product, or a pivotal time in the sales calendar, for example. Remember, you can always go back and revise, based on what you learn and how your business needs evolve.
Depending on the number of content pieces, your team may want to leverage a content creation database or project management system to help monitor and report on activities. You'll probably also want to set up a content management process. Increasing control over content reduces risk — there's less chance that range will be released early, or that the only copy of your brand guide will be deleted accidentally. Setting up permissions, workflows, versioning guidelines, and providing easy access to required elements will streamline the process. One last thing — you may want to define a content template that creates consistency and ensures all the ingredients you need for publishing are covered.
Step 7: Write Well and Optimize
There is no substitute for good writing. The quality and authoritativeness of your content matter to your readers and to Google. For that reason, make sure to leverage dedicated subject matter experts for the content you create. Creating a lot of content won't bolster traffic if the content quality isn't there or doesn't answer the questions people ask. Understanding the "search intent" for your page will help you write to provide the best answer, and therefore rank well.
There are four primary types of searching:
Informational: The searcher wants to know something. You may identify these queries as including the words how, what, who, why, or guide.
Navigational: The searcher is looking for a particular webpage. These queries may include the brand or product name.
Commercial Investigation: The searcher is researching a product or service but hasn't decided which one. Their queries might include words like best, top, comparison, or describe an attribute.
Transactional: The searcher is ready to buy, and they already likely know what. They will use words like buy, near me, coupon, price, or order.
Writing your content to reflect the user intent will ensure the right people are reaching your content pages, and they'll find out what they want to know when they get there.
Linking onsite and offsite adds value to content. Onsite, you may want to consider related content, conversion pages, and navigational elements. Offsite, leveraging content from other high-quality sources, can add real value for readers. In both cases, be thoughtful about the age, quality, and authority of the pages you link to.
Visual search makes up about 21% of the search volume. Images can help users quickly decide whether your content will answer their questions. Using captivating, original ideas that align well with your content is an excellent way to capitalize on that opportunity and generate healthy, relevant traffic. If you must use stock photography, choose wisely. Search to see how many others have selected the same image and try to select images that are as candid and organic as possible.
Once your content is ready, optimize it for SEO. Make sure to include all pertinent elements and tags that make it more discoverable by Google and users. Review for relevant keywords, focusing on title tags, URLs, image alt tags, and all applicable schema. And write compelling meta descriptions to get as many clicks as possible.
Step 8: Promote
If no one knows your content exists, does it? Promoting your content and leveraging relevant communication channels can help generate traffic and links, both of which help with search visibility. We frequently leverage the PESO model of Paid, Earned, Shared, and Owned promotion methods to think about how to go about promoting a specific content piece.
Paid: Tactics like advertising, paid search, and sponsored content that supplement owned and earned media in gap areas, expand market reach, and boost market share.
Earned: Media relations/public relations, blogger and influencer engagement; earned content placements, grow authority and links to the site, which acts as votes for Google to consider in site rankings.
Shared: Includes social media, word of mouth, and referrals; builds brand market reach, visibility, and authority.
Owned: Brand-authored content in places like websites, blogs, and email marketing; create top-of-funnel discoverability, user engagement, brand visibility, and authority.
Each piece of content should have a defined promotional plan, even if only to generate organic traffic, and it should be clearly defined in your content roadmap.
Step 9: Measure and Improve
Once you launch your content, review the results against expectations. Some insights can be learned from content that performs well or that underperforms. Knowing the results can help you determine future content development opportunities, hone your strategy over time, and highlight optimization potentials. Be sure to share your creations as promised and be transparent about learnings and any needed pivots.
Summary
Launching content hubs isn't for the faint of heart, but it can provide long-term opportunities to generate traffic and rankings. Careful planning, understanding of your audiences and their goals, and a scalable, smart structure can offer users and searchers content that will engage and convert.