Oracle Analytics Server (OAS) is the latest Oracle release to supersede Oracle Business Intelligence Enterprise Edition (OBIEE). Current OBIEE customers can upgrade to OAS at no additional licensing cost. Whether you are on OBIEE 11g or 12c, upgrading to OAS has the following main advantages:
Business users benefit from enhanced Data Visualization and Data Preparation features.
Augmented analytics with machine learning capabilities become available to end-users.
Analytics platform remains Oracle supported so you get the latest features and remain certified against updates to related Oracle and 3rd Party software.
With OAS, it becomes more viable to deploy both OAS and OAC in a hybrid manner.
How is Oracle Analytics Server different from OBIEE?
The majority of OBIEE features, besides a few specific capabilities, continue to be available after the upgrade to OAS. Whether its data visualization projects, classic BI dashboards, or BI Publisher pixel-perfect report bursting, all these capabilities may be upgraded to OAS.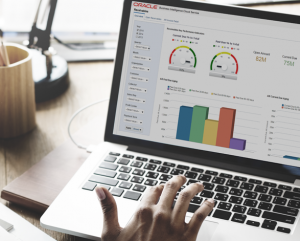 Explore key considerations, integrating the cloud with legacy applications and challenges of current cloud implementations.
The OAS topology is similar to that of OBIEE: OAS components are hosted on a WebLogic domain. This includes an Admin server and a managed server. Also, the system schemas (RCU) are deployed in a database.
OAS basically covers all the features that already existed in OBIEE 12.2.1.4, except for the following, which are deprecated with OAS. These same features are also deprecated from Oracle Analytics Cloud (OAC):
Mobile App Designer
Scorecards
Marketing Segmentation
The first release of OAS (v 5.5), made available earlier this month, is only supported on Linux 6 and 7 and with Oracle Database (11.2, 12.1, 12.2, 18c, 19c) for the RCU schemas. Support for other operating systems and databases such as Windows and SQL Server are planned for future releases of OAS, expected later this year. For more information on the current certification of OAS, you can reference the certification info here.
Two Upgrade Options
A couple of upgrade paths are possible:
In-place upgrade from OBIEE 12.2.1.4 (latest release of OBIEE)

Allows installing OAS on existing OBIEE host
Installation of OAS generates a new Oracle home within the same host
The existing domain is over-written
The existing system schemas in the database are upgraded

Out of place upgrade for OBIEE 11.1.1.9 and 12.2.1.x

Requires installation on fresh hardware/virtual machine
When upgrading from OBIEE 11g, migration can be done directly to the OAS instance using the migration utility to generate the export bundle. The migration bundle includes the repository (rpd), catalog and security metadata, and several configuration files.
When upgrading from OBIEE 12c, migration happens through an export/import of a bar file.
For more information on Oracle Analytics Server, you can reference the documentation here.
OAS Install Files on OTN are available here.