By now, we all know that we'll never be able to analyze the massive amount of data that continues to grow without proper tools. So we need analytics that go further than reporting what happened and help us understand why it happened. That's why IBM has created analytics tools that instantly transform your data into relevant insights using augmented intelligence, machine learning, pattern detection, data science and more. As an award-winning IBM partner, we're excited for the capabilities in the all-new IBM Cognos Analytics.
Cognos Analytics 11.1 Key Features
Cognos Analytics 11.1 is easy to use even for beginners, yet powerful enough for the most demanding data explorer, and can fit virtually any budget. Key Features include:
Storytelling
Smart exploration
Automated visualizations
Reusable content
Advanced analytics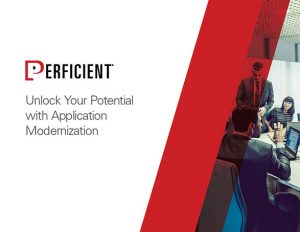 Application modernization is a growing area of focus for enterprises. If you're considering this path to cloud adoption, this guide explores considerations for the best approach – cloud native or legacy migration – and more.
Watch the video below for more features and to hear from one of our IBM experts, Abhi Majumdar, about how he sees Cognos Analytics 11.1 helping to empower users to make smarter decisions and gain better insights.
Majumdar, Lead Consultant and Architect, is a part of the Data Solutions team with over fourteen years of technology and business consulting experience.  He enables various clients in their data and analytics endeavors and has in-depth expertise across the full IBM Analytics stack.
"I have seen a lot of solutions in the market. I haven't seen something which is put together in one place like this." – Abhi Majumdar, Lead Consultant, Architect – Data Solutions Group talking IBM Cognos 11.1