Can you believe Oracle OpenWorld is less than one week away? Perficient is proud to be an exhibitor at Oracle OpenWorld, which is being held October 22-25 in San Francisco. Visit us at booth #3100 to meet with subject matter experts and thought leaders and learn how we've leveraged our extensive expertise in Enterprise Performance Management (EPM), Enterprise Resource Planning (ERP), and Business Intelligence and Analytics (BI), to drive digital transformation for our customers.
We are an Oracle Platinum Partner and have achieved the Cloud Select designation within the OPN Cloud program. We're committed to partnering with our clients to tackle complex business challenges and accelerate transformative growth. Perficient's Oracle consultants are certified to deliver the official Oracle course curriculum to customers via onsite training classes. Perficient owns and operates an Oracle Approved Education Center in partnership with Oracle University.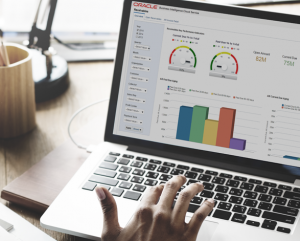 Explore key considerations, integrating the cloud with legacy applications and challenges of current cloud implementations.
We have a great session at this year's conference, where you can hear Nandini Nehru, Solutions Architect at Perficient, and JanetKloves, Assoc, Director, Finance, Financial Planning & Analysis at The University of Texas MD Anderson Cancer Center (MDACC) present on driver-based rolling forecasts.
Customer Case Study Session
Implementing Driver-based Rolling Forecasts at MD Anderson [CAS1324]
Tuesday, October 23rd | Park Central (Floor 3 – Stanford) | 3:45 PM – 4:30 PM
In this session learn how the University of Texas MD Anderson Cancer Center is transforming a traditional annual operating budget process to a more forward-looking driver-based rolling forecast process. Get the details of the solution design that supports rolling forecasts, target-setting at higher levels, and bottom-up annual operating budgets. Gain a greater understanding of best practices and dimension design (entities, measures, attributes) to enable flexible user input and efficient calculations.
If you're not able to attend the event, but would like to learn more about the MDACC case study, please reach out to us.
In-Booth Sessions
We're also hosting a number of sessions in our booth #3100. In-booth sessions will be delivered by key leadership and subject matter experts at Perficient Monday – Wednesday. We know you have a full schedule already, so these presentations are intended to provide great insight in just 7-minutes. Feel free to stay for the Q&A session after each presentation or come back by when it's convenient to for you to speak with our presenters. See the full schedule below:
11:00 AM Top 5 New Features in Oracle EPM Cloud
12:00 PM Oracle Cloud and SCM 4.0 – Innovation at the Edge
1:30 PM Prescriptive Analytics with OAC Machine Learning

2:30 PM 5 Key Considerations for Your Cloud Journey

3:30 PM Moving from Hyperion to Oracle EPM Cloud
4:30 PM The Journey from OBIEE to Oracle Analytics Cloud
Looking forward to seeing you soon in San Francisco!