Online retailers around the world agree that shopping cart abandonment is a big problem.
An average of nearly 75% of shopping carts were abandoned in the United States during Cyber Week last year, according to eMarketer. Cart abandonment factors such as indecision and wanting to shop around more are leading consumers to walk away during the hang time between clicking "Add to Cart" and actually completing their purchases.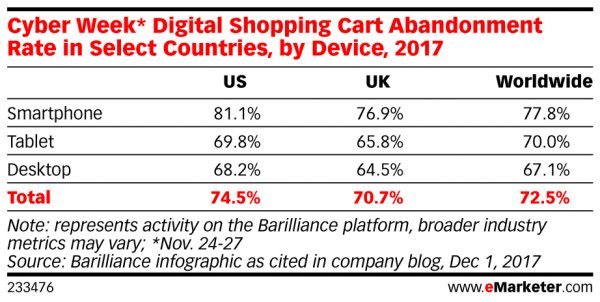 For years, Amazon has cornered the market on skipping that shopping cart time by providing customers with its patented one-click payment method. This shortcut speeds up the checkout process by using the customer's previously entered payment and shipping preferences to place the order directly from product pages, reducing the chances of cart abandonment. Amazon has also expanded on this technology over the years, using it to power both its Dash buttons and the voice ordering capabilities of Amazon Echo devices.
Amazon's patent for this one-click payment technology expired in September 2017, and eCommerce platforms have been racing to provide merchants with the same functionality.
Magento crossed the finish line first with the latest release of it's commerce platform, Magento Commerce 2.2.2, which includes a new Instant Purchase feature, along with several other new capabilities.
According to a Magento blog post announcing the release,
"Merchants who have tested Instant Purchase have found that it can shorten the amount of time it takes to place an order by upwards of 90%. It is particularly well-suited for mobile shopping and replenishment purchases because it minimizes friction in the process."
The Magento announcement went on to explain that merchants can also experience increases in impulse sales by allowing customers to skip the shopping cart step . "Shoppers can click and buy as they go through a site without the sticker shock of seeing the total cost of ALL items in their cart."
You can learn more about the Instant Purchase feature, as well as other new functionality included in Magento Commerce 2.2.2 by reading the full blog post here.
If you're interested in adding a more streamlined checkout process to your commerce offerings and are thinking of upgrading to Magento 2, download our guide, The Ultimate Magento 2 Upgrade Checklist: Four Steps for a Successful Move.