Recent events indicate a digital disruption is afoot – and ecommerce cannot ignore it. Commerce business models must change to satisfy increasing customer expectations across the B2C and B2B spectrum.
In this series, explore the three major areas where you can start innovating to transform your existing commerce business model. We previously looked at re-vamping customer experience and delivering on omni-channel. Next, we continue with the importance of shifting sales models.
Shifting sales models for B2B commerce
The digital disruption affects more than retailers and B2C enterprises. It's also impacting B2B commerce – even giants like Amazon. Amazon Business currently offers at least nine million business-specific products. Its expansion in B2B continues by offering selling services designed to make online transactions easier and faster for businesses.
B2B buyers increasingly look to digital channels for transactional purchases and researching complex purchases. A Forrester survey shows 60% of B2B buyers prefer not to interact with a sales rep, and 68% of buyers use digital channels to gather information on their own.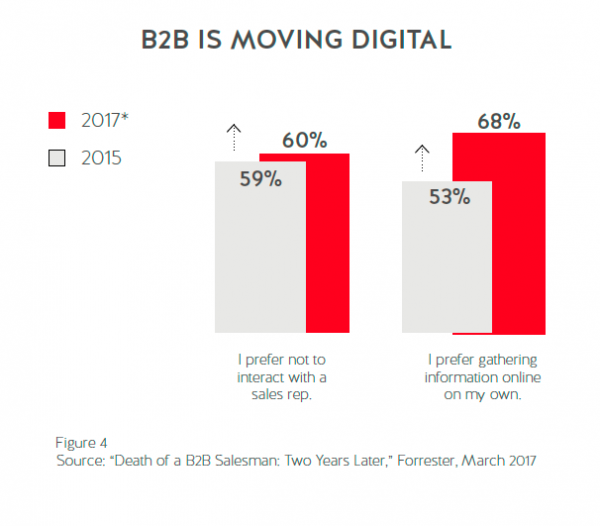 Self-service B2B commerce sites are necessary because they play a significant role in the pre-sales process. As a digital commerce professional, you must work with your leadership teams to develop strategies for self-service commerce sites that align with B2B sales processes and sellers.1
There's also a rising trend of B2B firms selling directly to consumers. This changing sales model affects B2C companies that traditionally sold third-party products.
You're now competing against a new seller – the manufacturer. Whether your company is B2B or B2B2C, Forrester believes "successful companies of the future will be customer-obsessed, and that means being customer-led, insights-driven, fast, and connected."1
By 2018, 40% of B2B digital commerce sites will use price optimization algorithms and configure, price, quote tools to dynamically calculate and deliver product pricing2
Why is the direct-to-consumer sales model on the rise? A couple of reasons. First, companies want to own more of the customer experience. One recent example – when Unilever acquired Dollar Shave Club and gained the direct-to-consumer selling expertise that the manufacturer lacked.3
Second, selling directly to consumers provides the opportunity to manage the relationship along the customer journey. This is especially important in B2B. Buyers interact closely with firms as they discover goods and services, gain more information, and go through the buying process.1
But, what happens after the sale? Perhaps buyers will ask for help and establish a deeper relationship with you. It's at this point in the journey when many firms see a drop-off of customers and find it difficult to re-engage them.
Digital's impact on manufacturers and distributors
Manufacturers realize that getting closer to the end-customer and increasing engagement is essential for remaining competitive. This is why many have disrupted traditional demand chains to adopt direct-to-consumer selling.
Ecommerce and other digital channels allow manufacturers to integrate their web presence, call centers, warehouses, and distribution channels while aligning to customer demands and online buying preferences.
Distributors and resellers are also adapting and evolving digitally. Distributors are differentiating themselves by combining comprehensive, robust product information with data on inventory levels and orders. Doing so strengthens relationships with buyers to become the trusted source for product research, purchase, and post-purchase support.
Experiential commerce is another example of how B2B businesses are optimizing channels to improve engagement. Breaking down silos to blend commerce and marketing results in creating a responsive customer experience that's optimized for digital marketing initiatives.
Learn more about the top areas for innovation by downloading our guide, How to Transform Your Commerce Business Models.
Sources:
1 "Death of a B2B Salesman: Two Years Later," Forrester
2 Magic Quadrant for Digital Commerce, Gartner
3 Harvard Business Review