So I and others at Perficient have highlighted many times that Digital Transformation involves more than technology. As a matter of fact, I did a search of Perficient's web site and got a lot of references to organizational change management (OCM).  So this recent article from CMO.com is music to my ears. They reference Altimeter's 2017 State of Digital Transformation that continues a theme they started in 2016.  If you want to transform, then you better not forget about people and culture.  But first, let's look at one key chart that highlights why people matter in your transformation.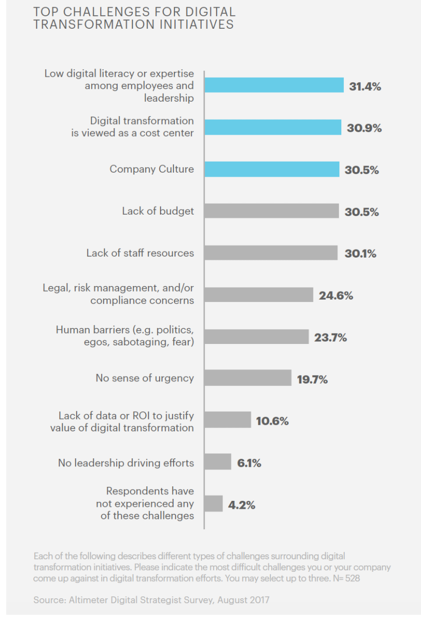 The top three highlight three aspects of how Digital Transformation can fail: (in reverse order)
If you don't take into account your company's culture, you will get nowhere
Digital Transformation needs to be correctly messaged to all levels of the company. Yes, Digital Transformation involves cost but if that's your focus then you've missed some key aspects.  Frankly, your more savvy digital competitors view digital as an opportunity.  I've referenced it before but one of our clients was in the unique position of having high customer stats but was still losing gross revenue in their physical and ecommerce operations.  Turns out, one new digital native competitor and one old but digitally savvy competitor innovated and invested in their space.
Expertise is key. Digital shouldn't be rocket science and your digital plan must reflect your company strategy and strengths.  But that said, you have to have people who understand the area in all parts of your business. That includes marketing, sales, customer service, and even operations.
Bottom Line
I'm fond of bottom lines but here it is: If you want to transform your digital world in such a way that you realize actual benefit and outdo your competitors then you cannot forget people and culture.  You need the right talent, the right message understood by the company, and the right internal change to be successful.