This Thursday, Perficient is hosting a webinar on Oracle Data Management Workbench (DMW) alongside Oracle, one of our most valued partners. From Perficient, we'll have Prabha Ranganathan, the director of clinical data warehousing and analytics, and from Oracle, we'll have Srinivas Karri, the director of product strategy for DMW.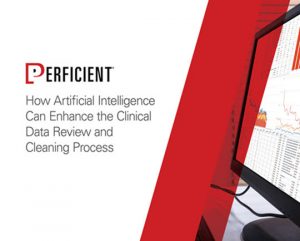 This guide analyzes how artificial intelligence – including machine learning – can be used by pharmaceutical and medical device companies to improve the clinical data review and cleansing process.
Yesterday, I got a sneak peek of the agenda. As usual, I'll open up the call with an overview of Perficient, and then turn it over to Prabha and Srinivas. Srinivas will provide an overview of DMW, a solution that combines data from multiple sources using a standard data structure (DMW ultimately provides an accurate picture of clinical studies and permits better planning). Following the overview, Prabha will highlight several use cases for the solution. Time permitting, we'll open the call up for Q&A.
If you haven't registered yet, you can do so by clicking here. We look forward to having you join us and learn why several of the top 10 pharmaceutical companies have already adopted DMW.