Your brand is much more than a memorable logo, clever tagline, and a cohesive palette of colors, or clean lines and good typography. Bottom line, it's about providing added value for your customers, building trust through quality and consistency, and ultimately boosting customer satisfaction and loyalty.
Beyond a customer's perception of your brand (and your products and services), your brand identity goes hand-in-hand with customer experience (CX). CX is defined as every interaction your customers have across marketing, sales, and service – at every touchpoint – serving as an opportunity for them to engage with you. As we know, customer experience has overtaken product and price as the key brand differentiator. So how can Salesforce help take your CX to the next level? If you haven't already, I'd encourage you to explore the basics and value of the Salesforce platform and communities here. If you're already familiar with the solution then your next step may be evaluating or implementing the new Lightning Customer Communities to enhance your CX.
The value proposition of building a Lightning Customer Community to enhance your customer experience is three-fold:
Customers can interact with each other and engage with your brand on a deeper, more personalized level.
You can get direct feedback on products and services to help build customer loyalty, and they can share their enthusiasm for your brand.
You can turn your Customer Community into an eCommerce site to help grow your business.
To date, there are more than 10,000 active communities and 90 million members using Community Cloud. A more impressive statistic is the 100 new features Salesforce delivered in 2016 for Community Cloud. However, it's safe to assume that a large number of them are not based on the new Lightning user interface (UI) from Salesforce.
Make Your Community Stand Out
So how can you easily make your customer community stand out from the thousands of communities in existence today? Migrate your legacy Force.com site, portal or Visualforce Community, or easily build a new customer community using the new Salesforce Lightning Communities. It's as simple as that!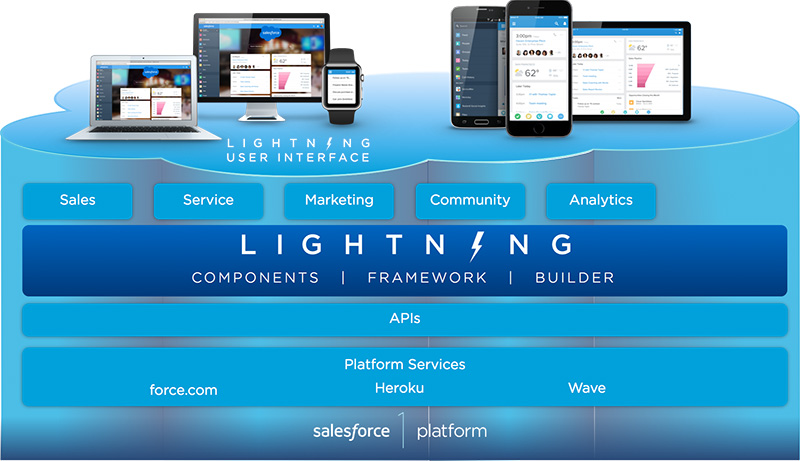 The new Lightning UI framework for Community Cloud provides some fairly major user experience (UX) enhancements as opposed to the former Community Cloud platform and Visualforce solutions offered by Salesforce including:
Fully branded and responsive design for mobile access
Community builder templates to accelerate design through a drag-and-drop and WSIWYG features
New Lightning Bolt templates or "themes" for specific industry use cases or audiences
Native Lightning Components and custom widgets or apps you can plug-in to extend the power of your community
Community management console that became available in the Winter '17 release to help track activity and business value of your community
In a recent guide from our team of Community and Salesforce experience design experts, we bring together online community and branding basics, the importance of user experience (UX), and provide valuable community design tips to take your Lightning Community to the next level. We've also shared a few UI designs for Lightning Communities we've built for customers that embody the "art of the possible" with Salesforce to help you easily bring your Customer Community to life!