For fast-growing companies looking to transform the customer service experience, the key is to help your customers – and your support agents – help themselves. Studies show that more than 70% of customers prefer self-service over contacting a support agent. So how can you give your customers a place to quickly find the answers they need from any device, drive engagement and collaboration with peers, and increase customer satisfaction and loyalty all at the same time?
The answer is building a robust self-service community. There are a number of advantages, not only for customers but your service organization itself, to having a self-service community, including:
• alleviating support costs
• boosting agent productivity
• increasing customer satisfaction ratings
• delivering a next-generation customer service experience
• enhancing customer engagement and advocacy
• facilitating customer feedback to fuel product innovation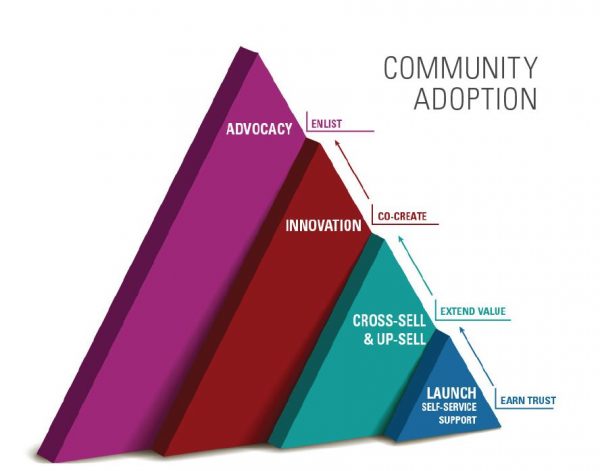 Connecting the Dots with a Customer Community
Customer service is no longer confined to the call center, and companies need to modernize their support infrastructure, improve business processes, and scale operations quickly to improve experiences and outcomes. When launching self-service support, it's important to connect the dots with your online support experience giving your customers access to the same online capabilities and consumer interactions they're used to like searching a knowledge base and social collaboration.
Depicted in the diagram to the right, that are four distinct phases to creating an exceptional self-service experience and driving adoption in customer communities. Beyond the most basic self-service support interactions – knowledge and cases – the real added value of a self-service customer community is the opportunity to expand the use of the platform into other areas to help grow your business.  But before you embark on a quest to enhance your knowledge base or jump right in to implementing a community solution like Salesforce Community Cloud, it's important to lay the foundation to ensure your self-service community will be successful.
Download our Definitive Guide to Self-Service Communities with Salesforce to:
understand how to connect the dots between your agent and customer experience
explore tips for getting started with self-service using Salesforce
assess the maturity of your knowledge management and self-service capabilities, and
know where to start with building a self-service community roadmap