Microsoft Virtual Academy held the "Know it. Prove it." 28-day challenge during the month of February 2015. The challenge was a month-long learning binge with 8 challenge tracks to choose from. Along with more than 55,000 people around the globe; I rocked the challenge during the month of February and leveled up my skills. As an overachiever, I actually completed 2 challenges and learned a lot. Even though the challenge is technically over, you can still commit to and complete these challenges, so there's still plenty of time if you haven't started one yet.
What is Microsoft Virtual Academy?
The Microsoft Virtual Academy is a website that provides Free webcast training on pretty much all of Microsoft's technologies. The site has been around for years, and has quite the extensive catalog of content ranging from Beginner topics to more advanced topic with Windows Server, Azure, SharePoint, Visual Studio and even game development. Even though this site has been around for years, there's still a lot of IT professionals that don't know about it. The "Know it. Prove it." challenge has definitely brought a lot of visibility to this great resource that all IT professionals can easily take advantage of.
Did I mention it's completely Free?
What is the "Know It. Prove It." Challenge
The "Know It. Prove It." Challenge ran for the month of February 2015; only a short 28 days. Each challenge track is made up of content designed to take only 1 hour a day to complete.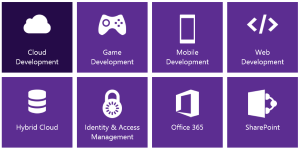 The Challenge tracks are:
Cloud Development – everything Azure (there's a lot!)
Game Development – 2D and 3D game development for Windows 8
Mobile Development – building Windows Store apps with C# and Cross-Platform development with Xamarin & Visual Studio
Web Development – building apps with HTML5, JavaScript, CSS3, jQuery, ASP.NET MVC and Bootstrap
Hybrid Cloud – Windows Server 2012, Azure and cloud automation
Identity & Access Management – Windows Server 2012 Active Directory, Windows 8.1 Security, Azure VPN & RemoteApp
Office 365 – Office 365, Exchange Online, SharePoint Online, Lync Online, Active Directory Federation and more
SharePoint – SharePoint 2013 configuration, management and development
There's a challenge track for you, whether you're an IT Pro or a Developer.
My Experience
Luckily, I found out about the "Know it. Prove it." challenge at the end of January, so I was actually able to start 2 days early. Actually on that first day, I binged for about 6 hours of the Web Development challenge. Due to this head start I decided to take on both the Web Development and SharePoint challenges. I really had to push through at times (stay up late, get up early, etc) but I persevered and completed both challenges.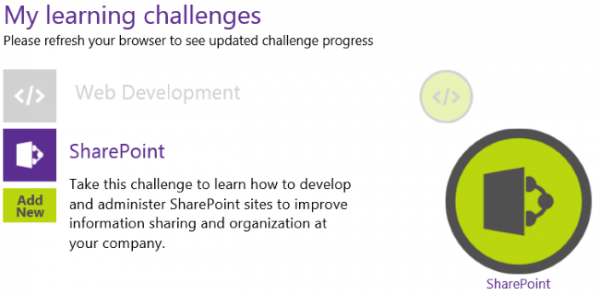 Tip Saving Tip: I actually played some of the videos at 2x speed so I could get through them more quickly.
As I progressed through the challenges I alternated between the two so I wouldn't get burned out from an overload of 1 topic. This also helped me retain more of the knowledge transfer by only doing approximately 1 hour of each challenge per day.
After going through both the Web Development and SharePoint Challenges, I must say that the content is amazing! These are high quality webcasts authored by subject matter experts. While I only went through 2 of the 8 challenges, I have absolutely no doubt that the rest are just at top notch as these two.
I completed 2 #kipi2015 challenges (web dev & sharepoint) @MSVirtAcademy How about you?
— Chris Pietschmann (@crpietschmann) March 2, 2015

In case you're interested, here's a link to my Microsoft Virtual Academy profile, listing the courses that I've completed:
http://www.microsoftvirtualacademy.com/Profile.aspx?alias=685961
Challenge Results
The overall challenge results are amazing! There were over 55,000 people who signed up for "Know It. Prove It." with over 39,000 who signed up for at least 1 challenge. Of those people that signed up, there were over 53,000 challenges started; which means thousands of people started multiple challenged!
Andrew Parsons is the one running the challenge, and he posted an end of "Know It. Prove It." blog post summarizing these results. Here's the exact numbers he posted:
So, the numbers. You know what's amazing? People were still signing up for Know it. Prove it. right up until the end (and even today we saw hundreds sign up!). A lot of you finished your challenges in the last week. And even more of you managed to finish at least one course in their challenges. So, just how many are we talking about?

55,425 people signed up for Know it. Prove it.
39,197 KiPi participants signed up for at least one challenge.
8,880 KiPi participants completed a course.
4,641 KiPi participants completed an entire challenge.

Over 55,000 people? That's crazy! And almost three quarters of you went on to sign up for a challenge? That's amazing! And more than four and a half thousand people completed an entire challenge, filling up their little badge all green? I. AM. IMPRESSED.
Oh, and the other number I've referred to previously? There were over 53,000 challenges started. 14,000 extra challenges. That means, thousands of you did more than one challenge!
Another amazing thing about the challenge is the number of people from countries all over the world who participated. Additionally, along with Andrew, I am super impressed. Not just with the challenge and it's participants, but also with Andrew Parsons who put together an amazing challenge. WAY TO GO, ANDREW!
Click here for the full challenge results post.
You can still rock your skills!
Even though the "Know It. Prove It." challenge has technically ended, you can still take part as the challenges and content are still available at the link below:
http://www.microsoftvirtualacademy.com/knowitproveit
While the content will remain on the Microsoft Virtual Academy website, the "Know It. Prove It." Challenge will only be available until March 25, 2015. Here's what Andrew Parsons posted about the Challenge availability:
So, as I mentioned, I highly encourage you to add your challenge courses to your MVA Learning Plan. When we hit March 25, we're going to shut down Know it. Prove it. for a while. That's because there's something new coming and we need to make space for it. But it also means you won't have easy access to those courses unless you add them to your Learning Plan.
Did you start and/or complete a challenge?
If you've started or completed a challenge, or even are just starting one now, I'd love to hear from you! Please post a comment on this post.