In a blog post from several months ago, Param Singh, director of clinical trial management solutions at Perficient, announced the newest version of our Siebel Clinical Trial Management System (CTMS) accelerator, ASCEND.
ASCEND 2.0 includes Oracle's new Open UI updates that make the system easier to deploy and run on a variety of browsers and platforms, as well as offer a much better user experience. The new Open UI updates make Siebel CTMS the most customizable and configurable clinical trial management system on the market today.
With Siebel CTMS Open UI, leveraging third-party web applications via APIs (application programming interfaces) can help boost productivity and system usage, as well as provide insight into user activity.
Here are 6 APIs that you should consider using with Siebel CTMS: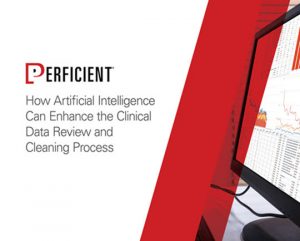 This guide analyzes how artificial intelligence – including machine learning – can be used by pharmaceutical and medical device companies to improve the clinical data review and cleansing process.
1. Exchange Rates
Create a daily exchange rate feed to update the exchange rate table automatically in Siebel CTMS.
Extremely useful when paying investigators in different currencies.
2. Company Twitter Feed
Create a real-time Twitter feed for any Account.
Helps you keep tabs on current and potential vendors and sites.
3. Company News & Stock Quote
Create a real-time Google News and Google Finance feed for any Account.
Helps you keep tabs on current and potential vendors and sites.
4. LinkedIn Profiles for Investigators
Create a real-time feed from LinkedIn for any Contact.
Helps you maintain up-to-date information on investigators and other site personnel.
5. Google Maps for Clinical Sites
For any address in the application, enable a Google to display a pop-up map in either Street or Satellite mode on the location of the selected Address
Useful for Site Monitors traveling to a new location.
6. Google Analytics
Enable integration between Siebel CTMS and Google Analytics to report on CTMS usage, such as user login locations, login session frequencies, browser usage, views clicked, etc.
Helps you understand system user statistics and habits.
Small enhancements like these can help companies get more out of their CTMS investments while, at the same time, increasing user adoption.
To watch a recent webinar on using APIs with Siebel CTMS, click here. For general information about our CTMS services, feel free to contact us.