Being able to create multiple application deployment types with Configuration Manager is a great feature. This gives you the ability to have one application  built to suite many deployment needs, such as MSI, Script, AppV, Citrix or multiple languages. While this is a great feature there is one issue with the new release of Configuration Manager 2012 R2 I have come across.
While creating new applications, I started to notice many were not giving me the ability to select uninstall the button was grayed out while other applications worked fine. I then proceeded to verify uninstall was setup correctly, and if any of the  installs were set as required. The one thing I did noticed was all the applications that were having the uninstall issue all had multiple deployment types. So I said to myself (SELF) what if I removed all the deployment types except one, and guess what, now I can uninstall the application. So after this chat with myself, I decided to try the same thing on all of the other applications that I have this issue with and now I can use the uninstall feature on them as well.
My theory was that if  you have multiple deployment types you lose the ability to uninstall applications. I decided to test this in our lab on an older version of Configuration Manager 2012, and found I had no issues with the ability to uninstall applications when you have multiple deployments created for the same app.
So this appears to be a bug or an issue in SCCM 2012 R2. I did read a articles stating that this is an issue at this time,  Microsoft is working on a fix. So for now if you have multiple deployment types created with SCCM 2012 R2 for a application you will not be able to use the uninstall feature, the button will be grayed out.
I will do a follow up to this post once I get conformation this issue has been resolved.
Happy Application Packaging….
Here are some screen shots of my testing.


Multiple deployment types


Grayed out uninstall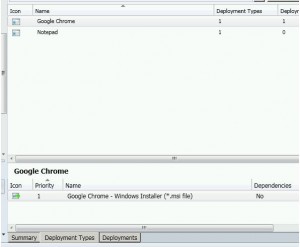 One deployment type


Uninstall available