External federation within Lync is one of the most powerful B2X communication mechanisms available on the market – the ability to contact other users, across platforms, across providers, completely through the power and openness of the Internet.  With Lync 2010 and with the RTM release of Lync 2013, the SIP Federated Providers list was pre-populated with a default list of external federation providers containing MSN, AOL, Yahoo:
Get-CSPublicProvider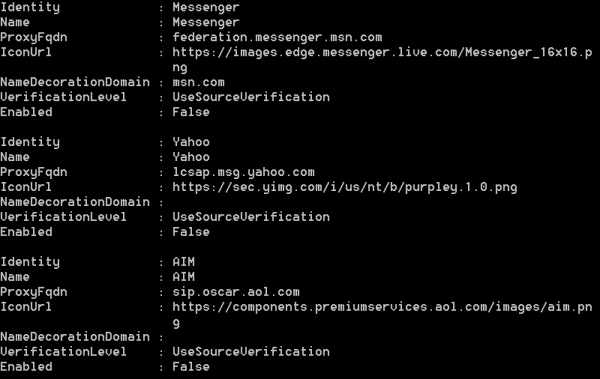 With the latest Lync Server 2013 CU updates (July 2013), the Public Providers list has been updated:
Get-CsPublicProvider


The list update was an unexpected gotcha found by a colleague, Keenan Crockett, shortly after CU2 was released and installed within a customer's environment.  Microsoft announced the Yahoo federation service end of life (EOL) back in November 2012 and confirmed the shutdown for June 2014.  AOL federation services will also be shut down at the same time that Yahoo services are terminated.  Additionally with MSN being merged into Skype, the MSN federation provider remains in the configuration but has been updated to reflect the new Skype brand name.  These changes within CU2 were most likely enacted in preparation for the deprecation and eventual EOL of those providers.
If you install CU2 and have found yourself wondering why you cannot communicate with the public IM providers afterwards, you can easily recreate the provider configuration through the Lync Management Shell to keep communication flowing until the EOL is reached in 2014:
New-CsPublicProvider –identity Yahoo –proxyfqdn lcsap.msg.yahoo.com –iconurl https://sec.yimg.com/i/us/nt/b/purpley.1.0.png -verificationlevel UseSourceVerification
New-CsPublicProvider –identity AIM –proxyfqdn sip.oscar.aol.com –iconurl https://components.premiumservices.aol.com/images/aim.png -verificationlevel UseSourceVerification
Many thanks to Keenan for the undocumented find!