It's no secret that one of the biggest challenges organizations face with SharePoint is its adoption. This is due in part to SharePoint's flexibility – its greatest strength and its greatest challenge. The platform is leveraged for various purposes, including intranets, extrane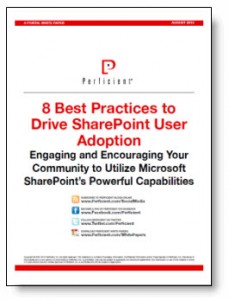 ts, public websites, social collaboration, and business intelligence. Often, the capabilities of SharePoint exceed what users are accustomed to, causing them to feel intimidated by the platform's complexity and overwhelmed by configurable options and cryptic menus. To drive successful user adoption of these solutions, an organization must attract, empower, and fulfill its users while satisfying strategic objectives.
People are frequently led to believe that SharePoint is introducing collaboration into the organization, and that socialization and information sharing begins as soon as SharePoint is installed and training concludes. In reality, collaboration within your company or department is already occurring every day. Shift to the mindset of "SharePoint will support our existing collaboration" vs. "SharePoint will enable collaboration."
Are you currently using SharePoint 2010? Or 2007? Are you considering SharePoint 2013? When it comes to user adoption, the version of SharePoint is irrelevant. Technology alone does not equal success in an implementation. Instead, a successful SharePoint implementation is one in which communication among diverse areas of the business or geographic locations increases.
While technology changes over time, the concepts around user adoption do not. Education, communication, executive involvement, incentives, frequent updates, culture development, integration and a few other best practices can help increase your organization's adoption of this valuable tool, ultimately driving efficiencies and saving time and money.
Download our new white paper, "8 Best Practices to Drive SharePoint User Adoption" to learn more about this topic. The white paper details how a steady "best practices" diet of education, solution building, and metered rollout of capabilities will help drive organizational adoption of the SharePoint platform. For more information on Perficient's SharePoint practice, visit our Microsoft SharePoint page.