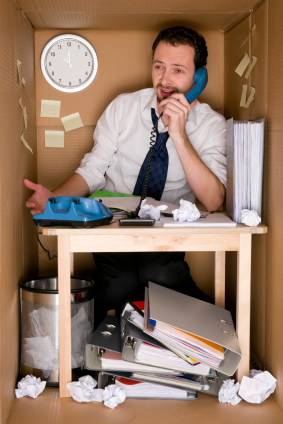 We work with a number of clients who've come to us after initially rolling out Salesforce on their own.  At first, things were fine, but growth, change, new process, new people, and multiple administrators over time have started putting pressure on their initial configuration.  Perhaps you've faced this exact dilemma.
They come to us with a variety of challenges in areas such as reporting, data quality, lack of visibility (sales pipeline, case management), user adoption, quoting consistency, pricing approvals—the list goes on.  Some common things we hear are:  
"I have taken over as the head of sales operations.  There are hundreds of reports in the system, but not one that I actually need to run the business."
"We have tons of leads in the system that are old and have not been touched in months"
"The data in our system is an absolute mess.  Can you help clean it up?"
"Our direct and channel sales people don't have adequate visibility, and end up competing against each other to win business"
"There are 50 fields or more on the opportunity, account, and contact pages, but we're only using about 10 consistently."
"We are not able to get a clean pipeline and understand the revenue forecast along the lifecycle of a deal."
"There are no controls in place.  We have deals that are sold with the incorrect combination of products and incorrect pricing that end up getting caught very late in the game by our finance team."
These are symptoms.  The real "disease" behind them often is that the client did not actually use a structured implementation with a trained Salesforce implementation partner – the dreaded "self-implementationitis" disease.
To avoid self-implementationitis we suggest focusing on 5 key areas.
Identify your key

o

perational metrics

Define the

b

usiness process

Make sure your

d

ata model

is sound
Streamline the

UI

– less is more
Validate

permissions and visibility
The reason that these 5 items are so critical is that you must understand what key performance indicators you need or want to run your business.  Without those, you have no idea what process (#2) you need to execute and the data (#3) that you have to capture to support it.  We have seen clients execute processes and data modeling only to arrive at the end and determine that the key report or dashboard they need is not possible.  Very unsatisfying.
Assuming you get the first three right, a CRM system is not just an application, but rather a living, breathing tool that requires care and feeding.  Users touch it, data gets dropped into it, reports are extracted from it, and so on.
Given the above, it is key to actually think through all the user interaction and make sure the UI through which your data, process, and reporting are executed is simple, easy, and intuitive.  It should fit your business.  Don't forget your end customer (sales, services, support teams, etc.) when delivering a great CRM application.  It has to make their job better.
Lastly, visibility and permission are so critical, you must ensure they're not forgotten, either.  Like sterilization in a hospital, it is often just assumed.  But it's really important to ensure it is properly done.
There is no cure-all for every business problem in the marketplace, but if you want to make sure you have a successful Salesforce implementation make sure to use a partner, and one that has a track record of success addressing your specific needs.