Introduction:
Centers of Excellence (CoE), also called "Center of competency" is a multidisciplinary team that includes executive sponsors, key stakeholders, finance representatives, business teams and technical implementation teams. They are fast becoming an integral part of Finance service's delivery model.
Why is CoE important?
A 2020 BCG research showed that 70% of digital transformations fall short of their objectives, often with profound consequences. This is where role of a CoE becomes important in their ability to help organizations to reach corporate objectives and realize vision.
Some of the ways in which it can help are:
Define Business Goals and oversee Cloud Adoption to meet those needs.
Lead Change Management Initiatives and drive Transformations so that the organization can rapidly build out new offerings and evolve existing models.
Track Key Performance Indicators (KPIs) to measure the success of Cloud Adoption.
Serve as a steering committee for best practices.
Provide Training and Expertise for end-users and prepare Subject Matter Experts within the organization.
Create a pool of resources that will be available for project related activity and more complex initiatives.
Maintain and manage application for the organization.
Benefits of "Center of Excellence"
As we discussed, CoE can play a vital role in increasing business value of throughout an organization. Some of the benefits that it brings to the table are:
Act as a Resource Hub for the organization for sharing updates, answering questions, and solving problems.
Different teams, instead of working alone, can benefit from the shared knowledge base and make better decisions leading to more predictable and successful outcomes.
Teams can leverage experiences across projects to achieve scalable results.
Optimize costs by using resources efficiently and providing skill assessments, training, and learning opportunities for team members.
Support organizational change management by leveraging tools and products that have been vetted and proven successful in previous deployments.
Use Cases of CoE
The responsibilities and activities of CoE will vary in different scenarios depending on the stage of digital transformation in the organization. Below are three possible scenarios that give a glimpse of "what and how" it works.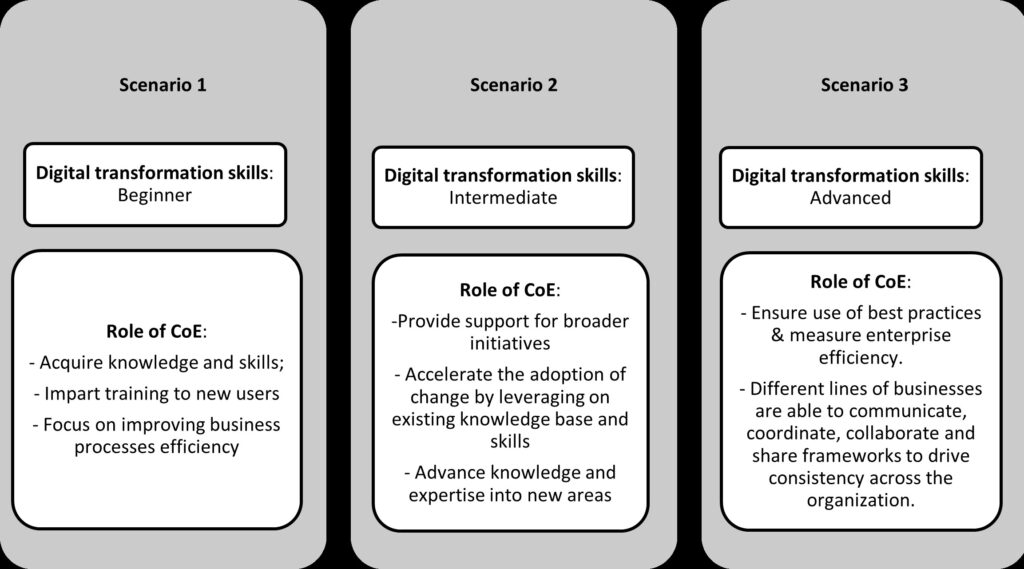 Conclusion
"Center of Excellence" may look different for every organization as each one of them is unique, but the goal of achieving Operational Excellence and increasing Business Value remains the same. Establishing a CoE is an important step in this direction and should be considered by any organization to help realize their Digital Transformation vision.