We are truly honored to be recognized as a 2022 Top Workplace by The Denver Post. These awards are unique in the respect that we were recognized based solely on employee feedback. This adds to our growing list of awards and recognitions, but now, it's time to showcase our Denver team.
"It's a privilege to be recognized as a Top Workplace this year. I'm proud of the team we've built in Denver and our culture of teamwork, outstanding client delivery, and giving back within our local communities. I'm looking forward to continuing to grow our team so that more colleagues can experience what makes Perficient truly so special."

– Jerry Colwell, Denver General Manager
An Award Winning Culture
Both in-and-out of the office, our Denver team is ready to get involved wherever they can. The team has a shared passion for supporting their community through multiple service initiatives. For instance, Bike MS: Colorado has become an annual tradition. Our team, Perficient Peddlers, raised thousands of dollars for the National Multiple Sclerosis Society throughout the 150-miles race, all while being cheered on by Perficient volunteers and their families.
This slideshow requires JavaScript.
Our Denver colleagues have also planted their roots in other organizations such as A Precious Child. This annual tradition of giving has gifted children with holiday gifts, monetary donations, and numerous volunteer efforts from colleagues. It's safe to say that our Denver team has a strong passion for collaboration, vision, and people. This said, we're proud to see their hard-work and dedication being recognized.
"It's so exciting to see our team and Perficient recognized as a Top Workplace in Denver. Our leadership is truly passionate about growing our consultants and their careers. Having worked here for 3 years, I personally appreciate our laid back culture and focus on serving our employees while exceeding our client's expectations. Hopefully this award will encourage more people to check us out."

– Vanessa Case, Denver Account Developer
How Did We Win This Award?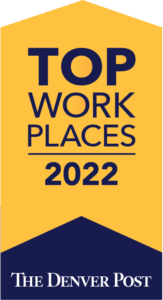 These awards are more than simply offering perks at the office. It's about organizational health, compensation, benefits, an engaged company culture, and more. Top Workplaces recognize leading companies in both regional and national programs across North America via surveys sent directly to employees. Employee responses are then measured by 15 culture drivers that are critical to the success of any organization and awarded in categories. Scores are then broken-down into categories and awarded based on company size.
Over 4,600 companies participated in the award process. The entire Perficient team is honored to be recognized along with the other 149 Denver organizations that are receiving this notable award.
---
JOIN AN AWARD-WINNING WORKPLACE
At Perficient, we continually look for ways to champion and challenge our talented workforce with interesting projects for high-profile clients, encourage personal and professional growth through training and mentoring, and celebrate our people-oriented culture and the innovative ways they serve Perficient and the community.
Visit our Careers page to see career opportunities and more!

Go inside Life at Perficient and connect with us on LinkedIn, YouTube, Twitter, and Instagram.