Our Perficient Denver team is strongly committed to giving back to the community and does so often. We recently took part in what's become an annual tradition – Bike MS: Colorado – and drew about 20 colleagues to support the National Multiple Sclerosis Society this year.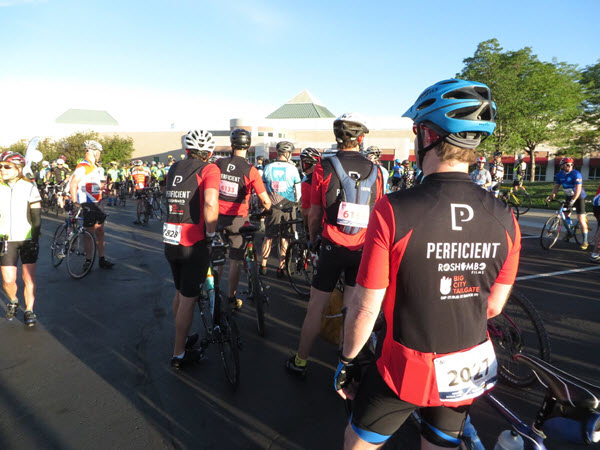 Perficient Peddlers Tackle Two-Day Ride
Our team – called the Perficient Peddlers – raised nearly $4,000 for the National Multiple Sclerosis Society through the event. The race started in Westminster, Colo., traveled to Fort Collins, Colo., and back to Westminster over the course of two days. The fundraiser helps change the lives of those affected by Multiple Sclerosis and fuels progress toward a world without it.

We had six riders participate in the annual race, four of whom are Perficient colleagues: Jerry Colwell, general manager; Bob Dattilio, senior solutions architect; Benjamin Lieberman, senior solutions architect; and Cliff Stockdill, director.
Perficient Volunteers Stand By Their Side
In addition to our six-person team, we also had about 20 volunteers – a mix of Perficient employees and family and friends – supporting riders throughout their route and cheering them on. I was honored to be among the Perficient colleagues who volunteered their time. Participants included Jerry Colwell, Victoria Fernandes, Kurt Bergman, Joanna Schwab, Bob McDowell, Anthony DiMento, Maya Howearth, Daniel Criel, and Cliff Stockdill.
Overall, the MS 150 race was a huge success for the Perficient Peddlers, as they successfully completed the 150-mile race and helped make a difference in the lives of 2.3 million people worldwide living with MS.
Stop by our booth at the Denver Start Up Week Job Fair on Wednesday, September 26th from 6:00PM — 9:30PM. You can register for the job fair and the entire start up week here. We are looking forward to networking and meeting with you.
---
Learn more about what it's like to work at Perficient at our Careers page.
Follow our Life at Perficient blog on Twitter via @PerficientLife.
Connect with us on LinkedIn here.