According to MuleSoft's 2022 Connectivity Benchmark Report, about 35% of revenue from organizations surveyed is generated by APIs and similar initiatives. Organizations that have adopted APIs understand how API-led connectivity and automation can improve employee and customer experiences.  
This annual report examines the state of IT and digital transformation through the lens of APIs. The global survey asks 1,050 IT leaders at organizations with at least 1,000 employees questions related to digital transformation and API-led connectivity.  
Integration Challenges Are Costly
On average, organizations could lose $7M if they fail to successfully complete digital transformation initiatives. About 72% of customer interactions are now digital, and 93% of leaders say this focus on digital has greatly increased over the past five years.  
And while organizations are doubling down on digital transformation, they're becoming less successful at integrating applications themselves. About 88% of respondents said integration challenges continue to slow down digital transformation – this number remains mostly unchanged since 2021 (87% of respondents).  
Custom integration continues to impact development time and budgets.

IT teams are looking at short-term, one-off fixes instead of a widespread approach to integration. On average, organizations spent about $3.65M on custom integration labor in 2021 – an API-led connectivity approach can reduce this spend through automation, streamlined processes, and reusable integrations. 

 
Data Silos Impact the Entire Organization
Data silos are a major challenge for 90% of organizations, impacting their ability to turn data into actionable insights for end-users. This number hasn't changed since last year's report, highlighting that little progress has been made. If this trend continues, organizations will struggle to deliver top-notch user experiences.  
The biggest data integration challenges are:   
Incorporating data-driven insights into user-facing applications

 

Security and governance 

 

Reusing data sources across various applications

 

Correlating data into a warehouse to obtain insights

 

Moving data to a data warehouse

 
Connected Experiences Are Important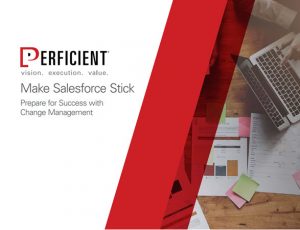 To ensure your Salesforce implementation or migration goes as planned, our team of change management professionals discuss how to manage the transition process to ensure your team is ready, willing, and able to perform effectively in the new environment.
Even with these challenges, about 30% of organizations are able to provide connected user experiences across all channels, compared to 18% in 2021.  
Organizations that are able to do this have seen: 
Enhanced operational visibility (better incident resolution and increased reusability)

 

Increased customer engagement (i.e. higher rates of product or service usage than previous releases)

 

Continued innovation (i.e. ability to expand to new services/markets, new product offerings)

 

Improved ROI (via greater cost savings or more revenue generated)

 

Increased adoption of automation

 

Faster project delivery 

 
API-led Connectivity is the Solution for Integration Challenges
Ninety-eight percent of organizations use APIs, which highlights that leadership understands the importance of APIs as a driver for connected experiences. Most organizations (90%) have a clear integration and API strategy, and just over 25% have a company-wide API integration strategy.  
A key benefit of API-led connectivity is that it drives faster time-to-value and cost efficiency while lowering the barrier to entry for non-technical users. Reusable components such as APIs, best-practice templates, and the empowerment of business users via no- and low-code tools drive automation and digital transformation projects.  
In conclusion, data silos, legacy infrastructure, and IT bottlenecks make it difficult for organizations to digitally transform. To overcome these challenges, organizations must leverage the benefits of API-led connectivity, including: 
Cost savings via API reuse 

 

A single source of truth

 

Improved security and governance 

 

Empowered business users

 
Perficient + MuleSoft
At Perficient, we excel in tactical MuleSoft implementations by helping you address the full spectrum of challenges with lasting solutions, rather than relying on band-aid fixes. The end result is intelligent, multifunctional assets that reduce costs over time and equip your organization to proactively prepare for future integration demands. 
We're a Premier MuleSoft partner with more than 15 years of integration expertise across industries including financial services, healthcare, retail, and more. After MuleSoft's acquisition by Salesforce, our continued innovation in the integration space offers more customized experiences on software developed by MuleSoft. We combine the MuleSoft product suite with our connectivity expertise to provide comprehensive solutions both on-premises and in the cloud. 
Contact us today to learn how we can help you develop an API-led connectivity strategy to solve your organization's digital transformation challenges.