It's ROBOT FIGHTING TIME! That's what Perficient colleagues and followers around the globe were waiting for on January 6th, 2022, as the sixth season TV show, BattleBots, premiered on the Discovery Channel.
With millions of fans worldwide, Perficient proudly partnered with the Brazilian-based team, RioBotz, to make sure the fan-favorite bot Minotaur competed in the finals held in Las Vegas, NV. And not only did Minotaur compete, but it was also such an epic battle that it opened the whole season launch show!
Perficient Colleagues Support Minotaur in BattleBots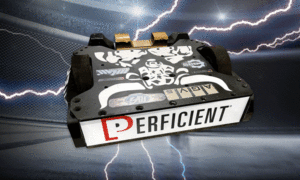 Our colleagues enjoyed the countdown to the premiere, getting to know the team and readying themselves (and their friends and families) for what was in store…and, dare we say, it was lit. (Watch the video below to see what we mean.)
April Deibert, a senior technical consultant for our Adobe practice, made everyone virtually chuckle with her observation. "Just watched on Discovery+… SO FUN!!! The whole family is watching across several states tonight 🙂 Minotaur is like an angry robot vacuum!"
"Seeing that Perficient branding on the Minotaur bot gave an unexpected surge of pride and a newfound bloodthirst for victory. Go Minotaur!!!! Take that FIRE from this bout and use it as your RAGE for the next bouts! Great first showing!" Blake Edler, lead technical consultant, encouraged.
Minotaur's Strength is Iconic
While we did not take home the "W" in the first round, the strength, endurance, and stamina of Minotaur was indisputable — even the commentators couldn't get over the abilities Minotaur brought to the table! Minotaur just kept going.
Wendy Marques, a manager on our Experience Design team, pointed out, "Not even Tombstone was able to keep battling through a full three minutes on fire. Minotaur is one seriously tough little bot; the undercarriage was punctured two or three times. The battery was on fire. They lost their primary weapon. And they STILL made it through three minutes. If that's not resilience during extreme conditions, I don't know what is."
Off to a strong start and lasting the whole three-minute battle, the bot blazed through the end of the competition requiring a rare judge's deliberation to determine the winner. "It was still sooooooooo good. I mean what a fighter!!!!" exclaimed Jennifer Slaymaker, project manager.
Leadership Lessons Learned from RioBotz
Even though SawBlaze won by just a shred (of metal), it was easy to see the fans cheering RioBotz on, waving Minotaur signs of support in the crowd. As the RioBotz team congratulated Team SawBlaze, the sportsmanship demonstrated by RioBotz shined brightly. Actions matter; whether you win or lose, it's how you play the game. Here are some takeaways from that first battle that anyone can be inspired by.
Lesson: Quality Counts
Whether it's the job you take or the people you surround yourself with, quality counts. On a material level, Minotaur proved that point in the premiere battle. With the capacity to easily flip SawBlaze and being nearly half the size, Minotaur prevailed, even when struck with the hammer. That durability was no accident; it was because of top-quality materials and well-thought-through design. Watch the video by AGVS Combat below to learn more.
View this post on Instagram
Our colleagues recognized the beauty in the bot:
"I mean, you'd be on fire too if someone took a hammer saw to your battery… But the resilience of that thing was impressive, it kept moving with a lithium battery fire blazing. Was a great fight!" shared Eric Walk, director.
"Yeah! It's a tough bot if you can finish a match on fire! Very impressed with the durability," shared Adam Koch, senior technical consultant.
Lesson: Kindness Matters
Losing is never easy, especially when the world is watching. Leading by example is a trait demonstrated by both RioBotz driver, Daniel Freitas, and by Team SawBlaze driver, Jamison Go. Daniel was quick to shake hands with the winning team while the rest of RioBotz cheered for the finalist. During the winner's interview, Jamison was extremely complimentary of Minotaur's quality, never naysaying or gloating.
View this post on Instagram
Like Maya Angelou said, "I've learned that people will forget what you said, people will forget what you did, but people will never forget how you made them feel." In that respect, careers and business are a lot like this robot fighting competition, and people want to work and do business with people they like.
"The cut scene where they signed Minotaur's bottom plate and gave it to SawBlaze was a feel-good ending to an epic battle. They may have lost that battle, but wow I'm impressed with the Minotaur team," shared Wendy Marques, manager.
Lesson: Perseverance is Key
Just because you're on fire and smashed almost in half doesn't mean you have to give up the fight. Minotaur made it to the end of the fight, amazing the judges and all those who watched the flaming bot race along.
Tommy Lindsey, a senior project manager for our Dallas team, shared, "I thought Minotaur had a good first 60-90 seconds. There are two more rounds so with a few repairs and good fortune maybe they can get back in the hunt. Who doesn't love a comeback story?"
Remember, although the first competition was lost, there's always another battle around the corner. The ability to compete is already worthy of respect and the majority of the competition still lies ahead. Keep this mindset alive when you face your own challenges.
BONUS Lesson: Perficient Colleague Pride is Undeniable
Sparks definitely flew, but the real joy was in the pride our colleagues felt by seeing a little piece of themselves in the action. Janet Manning, a senior business consultant for our Adobe practice, put it best: "It was super fun to watch! Loved seeing our logo — even when it was in flames!"
View this post on Instagram
What were your takeaways from the battle? Were you excited or inspired by the fight Minotaur put up? Let us know in the comments below. Don't forget to tune into BattleBots on the Discovery Channel or stream it on Discovery Plus each Thursday at 8 PM ET. See you in February!
(Photo Credit: BattleBots, Discovery Channel)
---
At Perficient, we continually look for ways to champion and challenge our talented workforce with interesting projects for high-profile clients, encourage personal and professional growth through training and mentoring, and celebrate our people-oriented culture and the innovative ways they serve Perficient and the community.
Visit our Careers page to see career opportunities and more!

Go inside Life at Perficient and connect with us on LinkedIn, YouTube, Twitter, and Instagram.