Hello Muleys!
What is a Muley?
The term 'Muley' is an endearing nickname for MuleSoft enthusiasts within the MuleSoft community. On August 7,2021 Perficient partnered with the local Nagpur MuleSoft Meetup Group to host our first in-person MuleSoft Meetup with support from Perficient Nagpur leadership. Muleys from throughout the Nagpur community were invited to attend the event to network with fellow MuleSoft enthusiasts and learn from Perficient's MuleSoft experts.
Perficient Nagpur Office Hosts MuleSoft Meetup
Perficient was excited to have an opportunity to bring the MuleSoft Meetup Platform to our Nagpur office for the first time for an interactive, in-person event. As a Premier MuleSoft Partner, Perficient is uniquely positioned to develop and accelerate MuleSoft opportunities.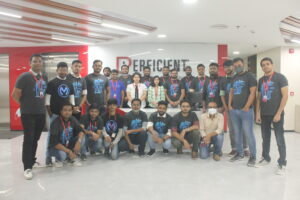 MuleSoft Meetups are a great way to network with the local MuleSoft community, learn about the latest MuleSoft integration capabilities, exchange ideas, and ultimately grow the MuleSoft community. Perficient colleagues and friends in the audience were excited to attend the event to network and discuss MuleSoft integration capabilities in person.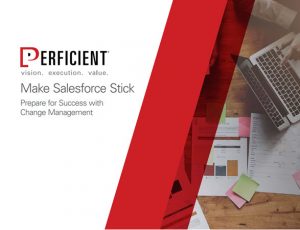 To ensure your Salesforce implementation or migration goes as planned, our team of change management professionals discuss how to manage the transition process to ensure your team is ready, willing, and able to perform effectively in the new environment.
MuleSoft Meetups are often attended by people with a wide variety of expertise across different technologies, in addition to MuleSoft. Perficient chose the discussion topic of MuleSoft integration capabilities with Salesforce and AWS to engage with the audience and inspire thoughtful discussion.

The presentation included live demonstrations of MulseSoft's Salesforce Composite Connector and AWS S3 Connector by Perficient colleagues Avinash Rathod and Siddheshri Kale. In addition to insightful group discussions and product demonstrations, the MuleSoft Meetup also included a trivia contest. The top 3 winners were awarded vouchers for complementary MuleSoft training courses to earn professional certifications.
Perficient Nagpur looks forward to hosting more MuleSoft Meetups in the future to encourage thoughtful discussion and sharing of knowledge within the MuleSoft community.
Visit our blog for more information on Perficient's MuleSoft expertise.
---
It's no secret our success is because of our people. No matter the technology or time zone, our colleagues are committed to delivering innovative, end-to-end digital solutions for the world's biggest brands, and we bring a collaborative spirit to every interaction. We're always seeking the best and brightest to work with us. Join our team and experience a culture that challenges, champions, and celebrates our people.
Learn more about what it's like to work at Perficient at our Careers page. See open jobs and connect with us for career tips, job openings, company updates, and more!
Go inside Life at Perficient and connect with us on LinkedIn, YouTube, Twitter, Facebook, and Instagram.