Process/ Schedule customer payments to maximize cash in your bank account and minimize processing times. Set up customers on direct debit payments, so you collect on time and with less effort.
The following tasks are what you execute to process direct debits and send them to the bank for collection:
Run the Create Automatic Receipts process to create direct debits and build a batch.
Review created receipt batch and edit selections.
Send Pre-notification to the customer for review or confirmation.
The Receipt confirmation process for automatic receipt batches indicates that your customer has reviewed each receipt and agrees that the payment information is correct.
 Approve receipt batch.
Create Remittance batch and Approve. You create a remittance batch to initiate the transfer of funds for each receipt.
Process a Settlement Batch payment request. A settlement batch is payment information that is formatted in a prescribed structure by your bank.
Transmitted settlement file to a payment system for settlement or bank process system.
Automatic Receipt Processing: Points to Consider
Discounts and Automatic Receipts
You would not normally use discounts with automatic receipts because the concept of early payment does not apply. The receipt maturity date is determined in advance, and the automatic receipt process transfers funds from the customer bank account on that date only.  Process an adjustment before running the automatic receipt process on only the net amount is drafted.
Start and End Date Ranges
Many of the setup objects used in automatic receipt processing have start and end dates ranges, such as receipt methods, remittance bank accounts, and customer bank accounts. Date ranges determine which objects display in lists of values.
You must ensure that the setup objects used in automatic receipts do not contain inconsistent or overlapping date ranges.  All transactions to be settled by the automatic receipt must have a transaction date after the required setups' start date.
Remittance Bank Information
The automatic receipt process assigns remittance bank accounts associated with the receipt method to each receipt created by the automatic receipt process. Remittance bank account information includes the general ledger accounts used during receipt application.
Receipt Class and Methods -Automatic Receipt Processing
An automatic receipt method's various attributes are defined to determine how automatic receipts are processed against selected transactions.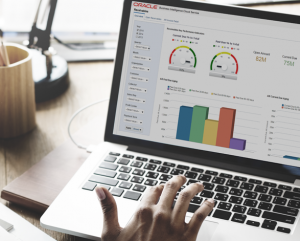 Explore key considerations, integrating the cloud with legacy applications and challenges of current cloud implementations.
Receipt Inherit transaction number
If you are using one per invoice as the Number of Receipts Rule, you can enable the Receipts inherit transaction numbers option to ensure that the automatic receipt number is always the same as the transaction number to which it is applied.
Number of Receipts
The Number of Receipts Rule determines how the automatic receipt process creates and applies receipts against transactions.
Note
The Number of Receipts Rule assumes an additional grouping by payment instrument. For example, if you use the One per Customer rule, and two invoices belonging to the same customer are to be paid with different bank accounts, the automatic receipt process creates two receipts, one for each account number.
Receipt Maturity Date rule
Use this rule to settle invoices that have different due dates with a single receipt. You may select Earliest or Latest to use the earliest or latest due date of all of the invoices that the receipt covers as the receipt maturity date.
When you remit a receipt, Oracle Cloud Receivables uses the maturity date to determine when to transfer funds from the customer bank account to your remittance bank account.
Automatic Print Template
Receivables provides one standard template you can use for customer advance notification. To use a different advance notification print template, you must copy and modify this standard print template.
Lead Days
The number of days before the invoice due date can be selected by the automatic receipt process using this receipt method. Use this rule when customer confirmation is required.  Set the value to the number of days normally required to receive confirmation.
Document Sequences
If you are planning not to use the One per Invoice Number of Receipt rule, you will need to assign a unique document/receipt number to each automatic receipt, you must enable document sequencing at the appropriate ledger or legal entity level.
For more information on ideas to transform your business with Oracle Cloud, contact Perficient.