New to Salesforce? Thinking about developing your skills? Welcome to a quick introduction to Salesforce and how you can start your own learning path with Trailhead.
The Advantages of the Cloud
Founded in 1999 by former Oracle executives Mark Benioff, Parker Harris, Dave Moellenhoff, and Frank Dominguez as a software as a service (SaaS) company, Salesforce has become the fastest growing CRM in the world.
Cloud computing has become one of the most sought-after technology in the past few years. Cloud computing means that the applications that are created are delivered over the internet rather than the other traditional way. Applications can be accessed from anywhere by any smart device you have, and this makes cloud computing a bit handy than other technologies. Likewise, Salesforce also provides a similar environment that can be accessed remotely. There is no hardware or software required, making this approach less expensive as no additional setup, installation or maintenance is expected.
SEE MORE: How To Learn To Use Salesforce
What are the services provided by Salesforce?
Salesforce's Customer Relationship Management (CRM) provides services on Sales Cloud, Marketing Cloud, Commerce Cloud, Service Cloud, Community Cloud (including Chatter) and, Analytics Cloud.
Where to learn all these clouds? Salesforce has the right place for us: Trailhead.

Trailhead
In 2017, Salesforce announced myTrailhead as an online training platform that can be easily customized for the specific needs of its customers. Every detail that is necessary to know about Salesforce is available on myTrailhead site. To start with any technology, first, you need to get the skills. Trailhead is the best place to acquire these skills.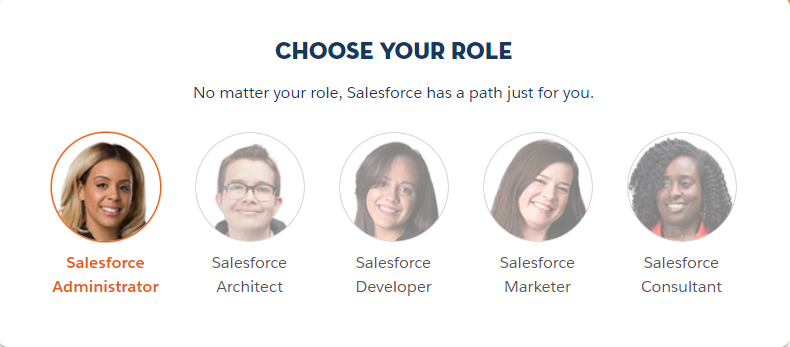 Select the path you want to follow. In my personal experience, I think Salesforce Administration is the most essential role among all and must be learned before you go ahead with any cloud.
The advantage of Trailhead is that you can follow any trails to complete your training, and you can create your own trails for others, indicating the best path to take any training in this environment. In addition to this, Trailhead provides unlimited personal orgs to do hands-on practice in the exact user interface that Salesforce must provide. This makes Trailhead the best place to learn about Salesforce.
Lighting Components
Created as Platform as a Service (PaaS), this enables developers to develop applications of their own that can be integrated into the main Salesforce.com application. This is a framework for developing web applications compatible with mobiles and desktop devices. It uses Java-like programming language and Visualforce, including XML. It also uses JavaScript on the client-side and Apex on the server-side. But remember, Salesforce is a place for minimum coding, i.e., you never have to code until its necessary.

Apex is based on the OOP concept making it like JAVA. So, if you have any exposure to JAVA or .Net, it is easier to learn Apex and adapt its syntax.
Likewise, having prior knowledge about HTML makes Visualforce a bit facile in nature as it shares being a tag-based language as well.
Kryterion
After finishing your training, you can register to take up your certification exam. Kryterion helps the growing companies to conduct these exams on their behalf. You just need to set up an account with Kryterion's partner website www.webassessor.com to complete your signup for the test.
In conclusion, the combination of Trailhead and Kryterion is perfect for any individual thinking of taking training and becoming a certified individual and learning this fantastic technology. Before you know, you'll be an expert in Salesforce by just following the guided learning paths and completing modules and projects.
Useful Links:
This is just a basic overview of how the training with Salesforce can be. In the next post, we'll explore different clouds available in Salesforce.