Here are some rough notes on a conversation that occurred among some really smart people on the Twitter account of my boss, Eric Enge. Eric posted an article of mine (Google at 20: A Shift from Text to Images), which sparked this discussion: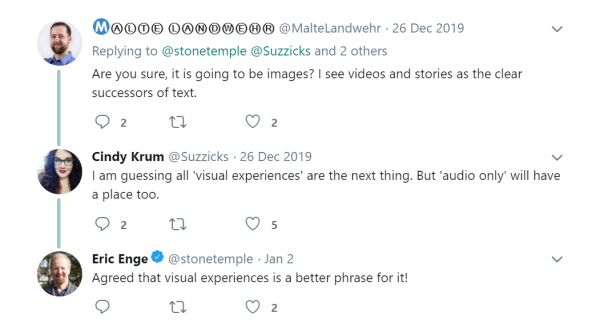 Following the comments from Malte Landwehr and Cindy Krum,  Aleyda Solis added, "In the recent @crawlingmondays interview I did with the Google webmaster analyst team, @methode clarified that is not only image, but visual search in general. They talk a lot about image because is the "lower hanging fruit" that all sites usually have, but is more than that :)"
Eric agreed with them and said, "It's really visual search/visual experiences that we should be talking about!"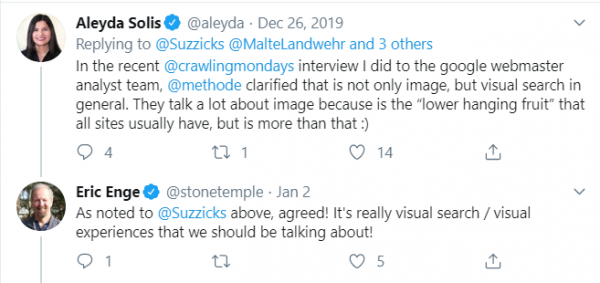 No surprise there; however, I have kind of a hedged opinion. While I agree visual experiences, stories, and videos are all significant evolutions in the visual realm, I want to encourage people to use plain, original images in their text as well – not just as a stepping stone toward stories, but as a smart part of content strategy. Here's the thing:
TV didn't kill books, mobile didn't kill desktop, and voice hasn't killed the keyboard. But those new technologies changed some of the ways in which consumers, well…consumed. One of my favorite examples of this kind of influence is a study that found "children exposed to black-and-white film and TV are more likely to dream in greyscale throughout their life." As computers process images better, and as visual experiences become more of a mainstay, images will need to be used in more places. Let's look at some reasons why.
Images as Speed
This seems like a misnomer, right? Images often get cited as major culprits for slow sites, which is why lazy loading gets encouraged, as do smaller file sizes, and general image optimization. But images can also mean speed – a picture is worth a thousand words, and a product image is worth three paragraphs of description.
Images can help users rapidly make decisions about whether your content is right for them. Ensuring that you use beautiful, original images that align well with your content is an excellent way to cultivate healthy, relevant traffic.
Images as Accessibility
Here's another thing people might overlook since images so often cause an accessibility problem rather than an accessibility solution. Alt-text is such a basic element of accessibility, and yet it's one that gets missed, even by veteran web developers. However, images are essential to accessibility.
Sometimes accessibility advocacy gets boiled down to screen reader users, and while they're an essential demographic, accessibility means making sites more readable and comprehensible for a wide variety of needs. Images can help folks with cognitive issues related to language, ADHD, and Autism, as well as other neurodiverse individuals.
Images can also break up long paragraphs, making them easier to digest and can also be used to explain complex concepts more visually. This helps everyone – there's a reason why Buzzfeed articles with 37 gifs are so popular (but be careful with flashing gifs).
Images as Objects
One response to Eric's thread above from Gianluca Fiorelli was, "Visual search is everything visual. Cloud Vision works on both, and Google can make image recognition on both. Object indexing is the "keyword." I think, in many cases, this is what the future of image search is about.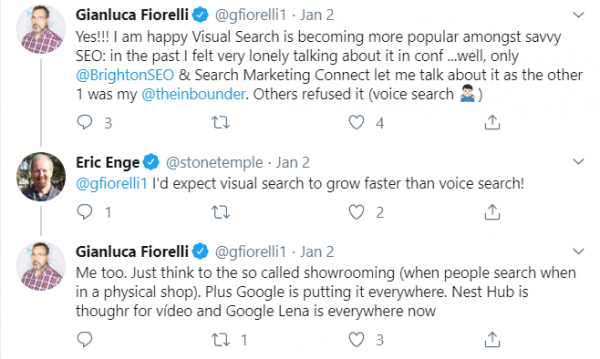 Google primarily reads objects as entities, and the information about those entities comes mainly –  formerly – from text. With the evolution of visual search, Google is learning to see better; not only associating images with words but associating images with concepts.
When you're creating content, you should create a user experience that shows them the whole elephant; as long as people are reading articles, they'll want images to illustrate those articles.
As processing becomes more powerful, we may see more entity and concept recognition in visual experiences in stories and videos. Currently, the way this visual information gets provided is primarily through images. Google Images has been a fundamental part of Google Search since Jennifer Lopez's dress in 2001. However, over the last few years, images have crept into first page SERP; in featured snippets, image thumbnails, carousels, and more.