This session provided a basic look at technical debt – what it is and where it comes from.  It also offered some suggestions on working with legacy code and Helix together. Here are my key takeaways:
What is technical debt?

A measure of how untidy your code is
Any time when you look at your code and wish it was better
A barrier to code reuse

Where does it come from?

Implement fast and easy solutions to meet a deadline
Junior developers – they do not know better
Senior developers – they are stuck in their own ways or stop learning
Passage of time since code was written
Updates to best practices

What is best practice today may not be best practice in the future

 Helix:

A set of patterns for Sitecore development
Mostly defined for C# backend code opposed to frontend code
Helps developers know where to put their code

Target architecture – Dependencies go top to bottom

Project
Feature
Foundation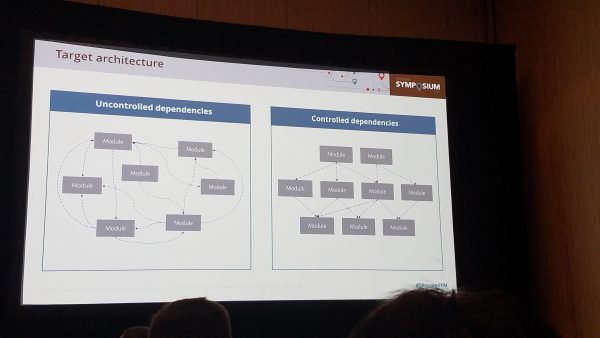 Moving from legacy code to Helix

Not easy if the code did not follow good practices when it was written
Large scale refactoring is a bad idea

Better to move one piece at a time
Move dependencies, create interfaces, setup dependency injection

Large sections of code may never get refactored

"If it ain't broke, don't fix it"
Very hard to regression test an entire application

Leave code better than you found it

When working in legacy code, clean up the area of the code you are working in if possible
You need to test the section that got updated anyhow
Development process:
Create a component library

A basic HTML/CSS site that shows off the UI components
Testable by QA early in the process
Easier to make changes before renderings are built

Code Analysis

Automatic code quality checking
Helps you find simple errors
Can check for coding standards
Can be a waste of time on legacy code if you don't plan on fixing the errors

Code Reviews

Difficult if you have never done them

Can lead to awkward conversations or hurt feelings

Goals

Improve code quality
Become a better team
Have more than one set of eyes on the code

Priorities

Understanding – Most important
Correctness
Design
Improvements
Coding style – Least important

Build Automation

Build every feature branch
Build and deploy the develop branch
Let QA control deployments to QA environments
All deployments should be push button
That's a wrap on another session. Be sure to follow all my session reviews and tweet me if you have any questions or want me to write about a particular topic!