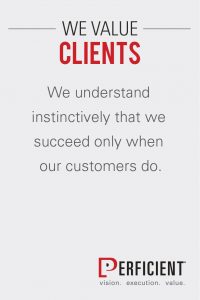 Our Perficient colleagues share how they live and breathe our core values. Here, Apoorv Rajput, a technical architect, writes about his experiences working with our clients on artificial intelligence (AI) initiatives.
I never shy away from stepping into an unknown territory. I am always up for new challenges.
As a technical architect with Perficient's artificial intelligence (AI) team, I'm always eager to implement cutting-edge and innovative products.
AI platforms are fairly new to many of our clients. Many are interested in learning more about AI and cognitive solutions to see how their businesses can benefit.
Saving an Insurance Company Millions
Our team recently demonstrated AI capabilities to a leading insurance company to gain their confidence in the technology. The conversations started with, "What does the platform do?" The meetings resulted in a billing insights product that is going to save the company millions a year. Our agreements with this client have allowed us to create a solution template for this use case to bring this capability to the market. It was amazing how it all started and finished.
Tracking the Price of Natural Gas
Another one of our clients, a leader in the global energy industry, wanted to leverage AI to speculate the movement in the price of natural gas. We trained an AI platform to do what an analyst would do on a day-to-day basis: read and understand Seeking Alpha articles, get insights form earning reports, and then send the collected insight to data models. I thought this was a really innovative initiative using the AI technologies.
Taking AI Projects Full Circle
Getting involved in business discussions really takes it to the next level and makes me feel involved in every step of the way. I'd call myself a jack of all technologies. Being able to comprehend and understand each layer in the tech stack gives me a good handle of things on every project. I am able to talk to different teams without hesitation.
There is always a sense of ownership that pushes me to achieve the desired end goal. Once you see your time and efforts go live in production, it really is a great feeling.
Our clients always know they can trust me with different tasks and responsibilities. I align my efforts and energy to help them succeed in their visions.
Perficient colleagues share what our core values mean to them as part of our special "We Value" series.
---
Learn more about what it's like to work at Perficient at our Careers page.
Follow our Life at Perficient blog on Twitter via @PerficientLife.
Connect with us on LinkedIn here.