While it's impossible to know for certain what the future holds, trends can be a reliable predictor of what's on the horizon. Our extensive work with supply chain has revealed several trends that we believe will be impacting supply chain in the near future.
These include:
Blockchain: Create immutable end-to-end data visibility into all aspects of a product's lifecycle.
Internet of Things (IoT): Take advantage of operations data from deployed assets to improve analytics, maintenance, and efficiency.
Sales and Operations Planning (S&OP): Sales and operations organizations collaborate to align in order to ensure that materials are available to meet constantly changing consumer demands.
Artificial Intelligence and Robotics: Operations utilize technology in a way that efficiently eliminates bottlenecks in production.
Advanced Analytics: KPIs measure what success looks like across all functions related to supply chain and reduce risks the company faces. Know where material and information is at any time.
Perfect Order: Order fulfillment systems and processes are synchronized to ensure that your customers receive the right product, on-time, in perfect condition, with required documentation and invoicing without unnecessary user involvement.
When it comes to these trends, think about how you compare to your peers. Are you doing enough? Should you increase your focus in a particular area? Do you have a strategy to remain or become an industry leader? Ask yourself these questions, not just about the trends at hand, but also about the areas of business for which you are responsible and that you know best. It's about pushing forward and ensuring your company is doing everything it can to strengthen its supply chain operations for the long term.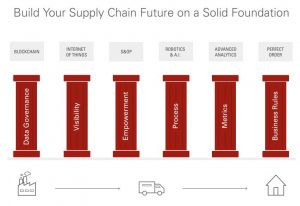 Check out our next installment of the supply chain blog series featuring Evaluation of the Maturity of Key Supply Chain Components.
We recently published a guide that explores these six leading trends in supply chain, as well as the importance of having a strong foundation to support them. You can download it by clicking here or filling out the form below.