Customer service is no longer just about providing an answer to a customer problem. It is now about enabling customers to obtain answers on their own, communicating suggestions and requests, and feeling like they have personalized service from their CS agent. Employees within organizations have the same expectations and organizations are transforming their service delivery to treat employees just like their best customers. Existing help desk solutions often times include cumbersome processes, antiquated solutions that are outdated, and long cycle through overly complex approvals. As organizations look to improve their internal processes with personalized employee support, they've looked to Salesforce and Samanage for a best-in-breed solution. Salesforce is the #1 CRM platform and Samanage takes all things that are great with Service and Community Clouds and expands it to support ITIL methodology and IT Service Management (ITSM).
Samanage is a cloud-based IT service desk and asset management solution that helps organizations manage their computer assets and respond quickly and efficiently to internal service requests. It is built on the foundation of Service Cloud and provides a user friendly agent console with access to key information such as service requests, incidents, problems, and automated SLA tracking. Employees can easily access:
ticket information – to see status updates and actions
request for service – to easily submit requests on an employee portal (built on Employee Community Cloud)
View work responsibilities – to ensure actions are taken at appropriate times
All users are able to access their information, respond to tasks, and view information from their mobile device with the Salesforce1 mobile app. The diagram below provides a solution overview of Samanage built on the Salesforce platform.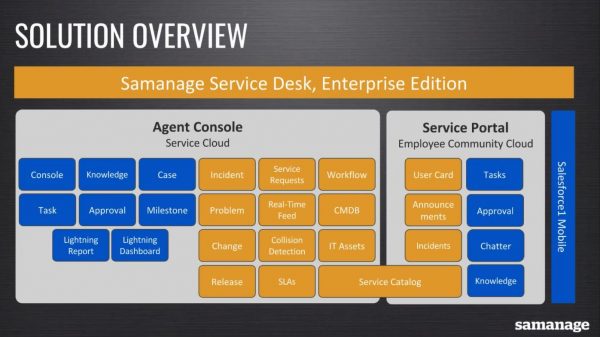 In 2017, Perficient embarked on a partnership with Samanage.  As an implementation leader in the Service and Community Cloud space, we have helped many B2B and B2C organizations build solutions that maximize the Salesforce platform to support their customer's business needs. Perficient has focused on not just supporting business processes, but also ensuring the user experience is seamless and intuitive. The decision to partner with Samanage was an easy one since Perficient can leverage its extensive knowledge of customer service as a base with technical breadth to provide internal support. Our expertise in Service Cloud and Community Cloud allows for easy installation of Samanage and configuration of the tool to support ITSM. The perfect equation to implementing faster, providing VIP service, and procuring information to employees easily is the partnership between Salesforce, Samanage and Perficient.
"It's no longer JUST about customer service – it's about enabling your entire workforce to deliver faster, smarter, with more personalized service."
Interested in learning more about Samanage or how to get help for your organization?  Contact us!