In my previous post, we discussed a simple scenario for reviewing clinical data cleanliness in Oracle's Data Management Workbench. Today, we'll discuss a similar process, although this scenario leverages value added data.
Establishing value added data is another way to help the clinician to more quickly review the data and spot outliers and questionable data. This value added data may include the following short list of examples:
MedDRA categorization of adverse events and drug thesauruses data for drug treatment
% change since baseline across visit evaluations
Unit Conversion/Standardization
Therapeutic area/study specific derivations or imputations based upon data within one evaluation or across multiple records of clinical data
Statistical measures/confidence intervals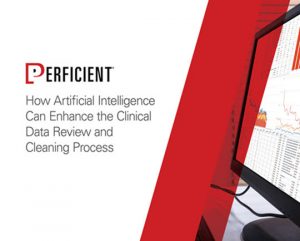 This guide analyzes how artificial intelligence – including machine learning – can be used by pharmaceutical and medical device companies to improve the clinical data review and cleansing process.
This derived data can help spot potential issues more quickly than only reviewing the raw source data.
The subject of using data models in DMW will be discussed in an upcoming post, where I will dig deeper into how data models can be used to support value added data.
In the meantime, if you are interested in learning how my team can help you leverage value added data in your clinical data review process, please send us an email.