At Perficient, we are often engaged with clients to drive digital transformation efforts aimed at increasing internal user engagement and adoption. A primary strategy for achieving this is the implementation of a modern intranet. But what does it mean to have a modern intranet? At Perficient, we've been building the modern intranet for many years, and one thing is certain: The definition of what constitutes a modern intranet is constantly changing. Over the next two blog posts we'll take a look at what it means to implement a modern intranet in 2017.

Before we can fully understand the modern intranet we must first understand the modern workforce. Today's workforce is extremely diverse; by the year 2020, there will be five generations in the workplace with Millennials accounting for 1 in 3 adults. The three most populous generations in our workplace are the Baby Boomers, Gen Xers, and Millennials, with Millennials accounting for the fastest growing population in the modern workforce.
Across all of these groups there has been a significant adoption of new working habits and we've seen a transition from "work, work, work" to "work/life balance" and now "work/life integration," as the boundaries of when and where we work become more and more blurred. As the generational makeup of our workforce changes, so do the scenarios that we need to support for a modern intranet to be successful.
Today's workforce is:
Distributed – We are as likely to work with someone across the country or around the world as someone down the hall.
Flexible – Workers require the flexibility to work from the office or at home without losing productivity.
Mobile – Workers are more often on the go whether in the office or on the road, work is wherever they are and on whatever device they are using.
Connected – Our workforce is more connected than ever leveraging social media and embracing new ways of working.
Focus on Users
It is normal for project teams to give careful consideration of Business Objectives and Technical Requirements, but many projects are unsuccessful because they fail to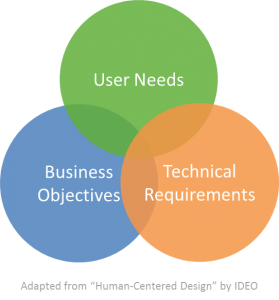 take into account User Needs. User Centered Design is the process that brings user's needs into consideration from the beginning of the project.  It is only when we take into account the Business Objectives, Technical Requirements, AND User Needs that we can be truly successful.
Be Agile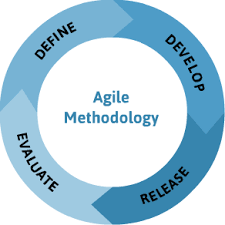 By adopting Agile work patterns, it is possible to move forward more quickly. In Agile, it is more important to iterate quickly and adapt to change than it is to get it 100% right the first time. In our experience, no matter how good the requirements, no team gets it 100% right the first time through. Think of 4-6 week cycles where we Define, Develop, Release, and Evaluate. Initial cycles will be focused on the MVP or Minimal Viable Product, based on a prioritized product backlog. As you iterate have a measurement strategy in place, analytics are key. You can't measure usage, growth, and adoption without data. When it comes to the modern intranet, think "Evolution NOT Revolution" if you wait a year to launch the requirements have already changed.
A Modern Approach to the Intranet
There are many common factors to the modern intranet that are relevant to companies of all sizes. Following the 80/20 principle, as much as 80% of the functional requirements for an intranet are the same from organization to organization. The remaining 20% constitute the unique requirements that have the greatest impact on your business. At Perficient, we have developed a modern approach to the implementing the modern intranet. Leveraging Rise as an intranet acceleration framework, we are able to deliver upon the 80% of common intranet functionality quickly, allowing us to focus on your complete Business Objectives, Technical Requirements, AND User Needs. Rise enables our teams to proceed with agility, showing value quickly while allowing use to evolve the intranet over time.
To learn more about Rise or schedule a demonstration, visit www.riseintranet.com. You can also download our guide "The State of the Modern Intranet" to learn what our experts are predicting for the future of the modern intranet.