While patients continue to need life-saving drugs and devices, pharmaceutical companies, medical device manufacturers, and contract research organizations (CROs) are under immense pressure to develop products quickly without sacrificing quality, efficacy, or safety. Not only are these companies expected to deliver therapies faster than ever, they are expected to make them more affordable.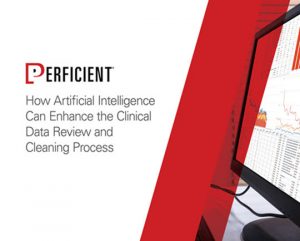 This guide analyzes how artificial intelligence – including machine learning – can be used by pharmaceutical and medical device companies to improve the clinical data review and cleansing process.
Faced with regulatory requirements for high quality, patient demands for low cost, and shareholder expectations for big profit, life sciences organizations have no choice but to prioritize operational efficiencies. Considering the amount of documentation required by industry regulations, and the continual sharing of documents between colleagues and business partners, document collaboration is an excellent place to start.
In a new guide, we highlight the features and benefits of Microsoft SharePoint 2016 that make it a great choice for life sciences companies. To download the guide, fill out the form below or click here.