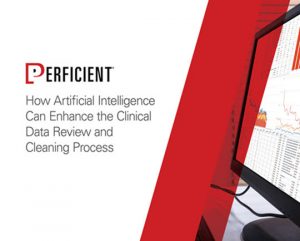 This guide analyzes how artificial intelligence – including machine learning – can be used by pharmaceutical and medical device companies to improve the clinical data review and cleansing process.
On October 15, 2015, my colleague, Kathryn Hanson, presented a webinar on the topic of clinical data warehousing. She provided a high-level overview of the challenges that life sciences companies face when it comes to technology, in particular with the acquisition and management of data (e.g., patient/subject, trial management, safety) from different systems and third-party service providers. 
With so many external data sources in play, not to mention giant file sizes, getting the data into a data warehouse for analysis can be laborious. To help streamline the required procedures, Kathryn offered a solution that automates the process, substantially reducing the time and personnel it takes to load data into Life Sciences Data Hub (LSH), a clinical data repository from Oracle.
If you are interested in learning more about a flexible solution that helps automate the loading of data into Oracle LSH, I recommend reviewing the webinar recording or flipping through the SlideShare presentation. You are also welcome to send us a note for a more detailed discussion.