When Hurricane Sandy struck the U.S. in 2012, it was devastating, to say the least. It damaged homes, businesses, and schools. No one in its path was left untouched. Even data centers were flooded and left without power, taking critical systems offline.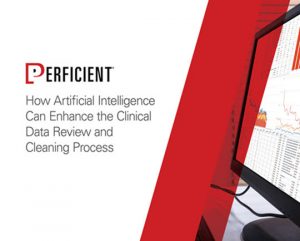 This guide analyzes how artificial intelligence – including machine learning – can be used by pharmaceutical and medical device companies to improve the clinical data review and cleansing process.
Experiences like Sandy make you wish you had a plan in place to minimize the effects of a disaster. Unfortunately though, more often than not, it is only after you feel a direct impact that you begin to think about what you could have done. And frankly, sometimes even that isn't enough motivation to plan for the next unplanned event. 
This week, Perficient will be delivering a webinar on business continuity (BC) and disaster recovery (DR) as it relates to clinical and safety systems, although much of the content can be applied to other types of systems. Sean Bernard, a lead business consultant in our life sciences practice, will provide an overview of:
BC and DR
Regulatory Requirements for BC and DR
What a BC Program Is and Why You Need One
BC Program Stages and Deliverables
Q&A
Whether you are already have BC and DR plans in place, or are stuck scratching your head on how to get them started, I think you'll benefit from this complimentary presentation. Sign up below or register on the event page.
[pardot-form id="34440″ title="Life Sciences: 2015-3-5: Webinar BLOG Form: Disaster Recovery and Business Continuity for Your Clinical and Safety Systems"]