Senior Management is always looking for answers about what works, what doesn't, and how best to design and manage clinical trials. In order to get those answers, all of your trial data needs to be in one place and in a consistent format – this is the only way to extract accurate information.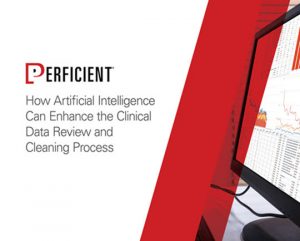 This guide analyzes how artificial intelligence – including machine learning – can be used by pharmaceutical and medical device companies to improve the clinical data review and cleansing process.
But, how on Earth do you go about getting legacy data from those old spreadsheets into your clinical data management system (CDMS), not to mention the current data from all of your
clinical research organization (CRO) partners? Different sources, different file formats, different field names, different field values… The data migration process is complicated and can be downright overwhelming, but it's the only way to get the answers that you need.
On September 30, 2014, my colleague, Michelle Engler, a senior solutions architect in Perficient's life sciences practice, and I will present "Migrating Clinical Data in Various Formats to a Clinical Data Management System," a webinar in which we'll discuss the process used in a large clinical data migration project that Perficient recently completed, the migration tools used, and what we learned from the project. We look forward to you joining us.