Welcome back to Perficient's Yammer 101 Series. This is Part 2 of the series. If you missed Part 1 – Introduction, please have a look. In this post, we will take a dive into the world of Posting – How to Post, Types of Posts, Topics, Mentions, and Best Practices for Posting.
How to Post

Starting from your Yammer Home screen, you will easily find the "Post box". As with any social network, its always at the top of the screen. Yammer defaults to the Update tab and you will see the text "What are you working on". You will also see blue links for Upload, Poll, Praise, Event and More, which we will cover later in this post.
Posting to Yammer is as simple as typing into the box and clicking the Post button. The one difference from Facebook is hitting the Enter button does not automatically create the Post. In Yammer, the Enter button is a new line. On Facebook you must hit Shift + Enter to get a new line. Small difference there and it might take time to get acclimated for some users.
When Posting, there are a few key Best Practices to keep in mind:
Search before you Post. – This helps to reduce duplication. If someone has already asked the question, using the Search function you will find the previous thread where you can review the answers that were already given.
Ask Questions – Yammer is the a great place to have your questions answered. Posting open ended questions will generate conversation and provide great value to your organization as you build your knowledge base.
Keep it Short – Social networks are meant for quick and direct conversations. I've found the same to be true for email, the shorter the Post, the more likely it is to be read by everyone. We are all in this crazy, high-speed world of information overload. Shorter is always better.
Keep it Relevant – Make sure to post to the correct group. Every post in Yammer goes to a Group. If you are on the Home screen, the option "Post to My Colleagues" will go directly to the All Company Group. As the name implies, this means your post will go to everyone in your company. Selecting the appropriate group from the drop down list will ensure your post goes to the relevant people. Alternatively, you can go directly to a group to post to that group (instead of posting from the home screen)







Types of Posts
There are a number of different types of posts in Yammer, let's have a look at each one.
Update – the most basic type of post. Can be text or a link to content, such as a blog, news article, or video – any standard html link can be posted in Yammer.
Upload – this is a file upload. You can upload any file or image to Yammer and comment on it. This is helpful for PowerPoint presentations, PDF's, or Word documents – you can add commentary or start a conversation around your file.
Poll – this is a standard survey. You can ask a question and prepare multiple choice answers for users to select from. The poll will be visible to all users in the group and all users can see the results.
Praise – this type of post gives you the ability to praise someone for a job well done. You add the person you are praising, then you can select an appropriate image – there are a number of them – star, trophy, thumbs up, checker flag, lightbulb, heart, etc. This is a great feature as it allows the user to select the appropriate image for the type praise you are giving your colleague.
Event – you can add events to Yammer. You can select the date, duration, location, and description. This is a typical event listing.
Announcement – this function is only available to Group or Network Admins. Announcements generate an inbox message to all group members, so they should be used only for information that is important to all members. In our organization, our Corporate Communications team uses Announcements for messages to all employees about HR enrollments, system outages, or other important messages that were previously blasted via email.
So those are all the current types of posts in Yammer. Note that this will change this calendar year. Microsoft announced at the SharePoint Conference in March about some upcoming changes to the integration of Yammer and Office 365. I won't go into too many details here, but know that the Event and File features currently in Yammer will be replaced by Site, Document Library, and Calendar functions in SharePoint Online. As those features are rolled out, we will update you via this blog.
Topics
When using hashtags # in Yammer, those become Topics. There are multiple ways to add Topics to your posts. There is a Topic button at the bottom of the Post Box. You can add your topics directly in that box without the hashtag. Or you can hashtag any text directly in the Post Box and Yammer will turn that hashtag into a topic. When viewing a post, you will see all topics assigned to the post noted with a tag icon.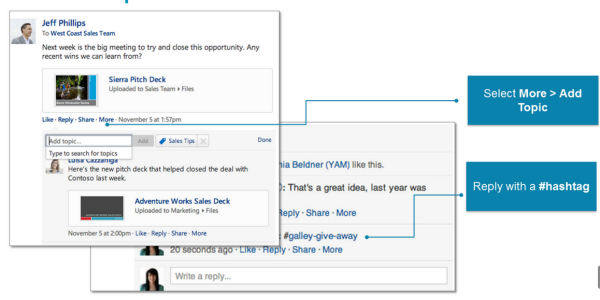 Topics are a great way to mark your posts so that other users can find them later. Topics are also a great way to collate different posts together that are on all the same topic. Users can follow topics to get updates directly and can view all posts related to a topic by clicking the topic link. Use hashtags/topics often when posting!!
Mentions
Mentions in Yammer utilize the same @ functionality present in other social networks. By typing the @ symbol, a drop down list will appear with people and group names. This allows you to tag a person or group in your post. Using the @ mention will notify the person and will show this post in their inbox. Mentions are a great way to include other people or "cc" people in a conversation. When your organization first adopts Yammer, be sure to use this feature often. It will organically help to grow your network usage as people are made aware of conversations that are important to them or their job function.
Other Posting Functions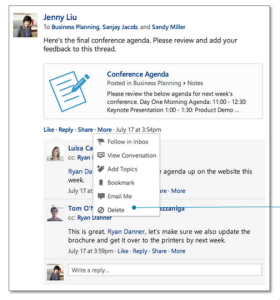 Hide Conversations – you can hover over the X in the right corner of any post and click to Hide Conversation
Like – standard functionality
Reply – standard functionality
Share – use this to share to another group, helpful for surfacing conversations in more than one group
When you select the More button at the bottom of any post, you have these options
Follow in Inbox – use this option to select any post to be sent to your inbox.
Add Topics – as mentioned above, this is just another way to add Topics to your post
Bookmark – this will add a bookmark to this conversation in your Profile, useful for marking important conversations
Email me – this will set an email notification for this post
Delete – only available to the user who created the post
Best Practices for Posting
When posting to Yammer, there are some good best practices we should follow. First, know the types of good posts:
Questions and requests for help
Replies offering assistance
Great ideas and constructive suggestions
Updates on teamwork and projects
Interesting articles about trends or factors affecting the business
Useful information that is relevant
Bad types of posts:
Inappropriate jokes or derogatory criticisms
Anything that violates your company's usage policy
Anything you would not feel comfortable sharing with your manager
Anything you would not feel comfortable sharing withy our mother
Finally, another important antidote – Sharing may be caring, but beware of the overshare!!
That's it for our Yammer 101 Series Part 2 on Posting. Stay tuned for Part 3 – Groups. I hope you now have a good overview of the features of Yammer and remember to follow the above Best Practices. Happy Yamming!!