Windows 8 – Hibernation Option Missing?

Enable Hibernation in Windows 8
If you're a frequent traveler like me, who uses 'Hibernate' to save on battery life when not using your device – this article is for you!

For some reason Hibernate is not a choice when you go to shut-down your Windows 8 device, here's how to add it in.

In your system tray – click on the battery icon and then choose "more power options":




Now select "choose what the power buttons do":




Now choose "change the settings that are currently unavailable":




Check the box next to "Hibernate":




Now when you go to shut down, you'll see the extra choice to Hibernate: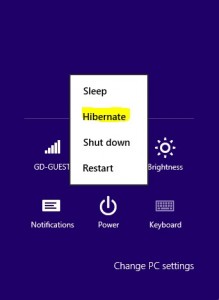 Enjoy!