Since April 2022, Perficient's Marketing Automation Team has been part of a select group of Adobe Partners participating in the Dynamic Chat Customer Lighthouse Program. As someone on the digital proving ground of marketing automation, I volunteered to take the lead on this initiative on behalf of Perficient. It's been an exciting journey to watch the evolution of this product, and this blog intends to amplify those insights for others.
What is the Customer Lighthouse Program?
The Customer Lighthouse Program at Adobe aims to promote product adoption, glean insight into customer use cases, and gather product improvement recommendations. In exchange, Adobe offers Perficient exclusive and personalized support with dedicated office hours for Dynamic Chat and sneak peeks of forthcoming feature releases.
Some enterprise-level clients consider adding Dynamic Chat to their upcoming roadmaps, positioning Perficient as a trusted firm to provide white glove strategy and implementation support.
What is Dynamic Chat?
Adobe describes Dynamic Chat as "an easy-to-use interface to target both people and accounts visiting your website. This tool allows back-end users to collect relevant content such as name, contact information, and free text. Site visitors can also book meetings with your Sales Team. Dynamic Chat activity and engagement data can be used to add members to Marketo programs and trigger cross-channel activities."
The image below is an example of what Dynamic Chat's Stream Designer UI looks like to the implementation user.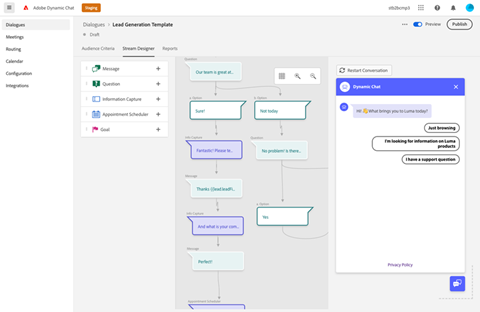 Image Source: Adobe Experience League – Dynamic Chat – Stream Designer
How Does Dynamic Chat Differ from Competitor Solutions?
In conversation, clients often compare Dynamic Chat to another well-known chatbot tool in partnership with Adobe as a preferred solution. While this other solution can integrate with Marketo, Dynamic Chat is a native tool for Marketo. As a result, Dynamic Chat can be more accessible and affordable if you want to get something off the ground quicker. In addition, being native to Marketo, Dynamic Chat does not contribute to Marketo's daily API limits.
The image below shows how Dynamic Chat can leverage the data pushed into Marketo as activities users can employ as triggers and filters.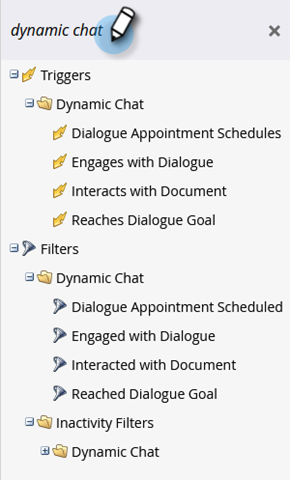 Image Source: Adobe Experience League – Dynamic Chat Activities
Client Use Case for Dynamic Chat
To inspire you to explore Dynamic Chat, here is an example of a strategy that I offered to a client:
Travel Industry – B2C
Business Goal:

Boost user adoption of a new Guest Portal using Dynamic Chat.

Strategy:

Create a proactive chatbot experience to anticipate and respond to the most common customer questions.

Implementation Plan:

Pre-programmed answers to quick questions as an option for self-service.
Offer how-to video as an option for self-service.
Offer links to corresponding pages in the website's FAQ section for self-service.
Offer calendar availability for customers to set up an appointment with a customer service representative.
New Feature Releases
Since Perficient's team joined the Dynamic Chat Customer Lighthouse Program in April 2022, Adobe has released (or is in the process of releasing) many new features:
"Chatbot Events for Dynamic Chat: Leverage more detailed behavior data for web visitors such as time on page, time on site, and page scroll percentage to define when a chat dialogue should be shown."
"PDF Embed for Dynamic Chat: Increase engagement and share meaningful content by embedding PDFs into chat dialogues and measure content performance through engagement activity tracking."
"Extended Language Support for Dynamic Chat: The Dynamic Chat user interface will now also be available in French, German, Japanese, Portuguese, and Spanish. Chat dialogues can also be configured in these languages."
"Exclude URLs for Dynamic Chat: Control which of your webpages Dynamic Chat appears on with the ability to exclude specific URLs from targeting criteria."
"Improved Stream Designer Usability for Dynamic Chat: Add cards directly from the Stream Designer canvas without dragging and dropping. The Dynamic Chat interface has also been improved to offer better content visibility in individual cards."
"Advanced Appointment Routing Rules for Dynamic Chat: Dynamic Chat offers more options for targeted appointment routing. Specify which agent appointments should be routed based on Marketo Engage attributes, ensuring leads are routed to the appropriate agents."
"Advanced Dialogue Reporting for Dynamic Chat: View the performance of your Dynamic Chat campaigns in greater detail using all-new data visualizations for engagement and conversion metrics."
"Unsync Unused Marketo Engage Attributes for Dynamic Chat: Unsync Marketo Engage attributes from your Dynamic Chat subscription that goes unused, helping you facilitate data cleanliness and allowing for alternative attributes to be synced as needed."
"Enable/Disable All Published Dialogues at Once for Dynamic Chat: Globally enable/disable all published Dialogues at once from the Configuration page with the press of a button."
"Custom Avatars for Dynamic Chat: Upload a custom chatbot avatar so it can be personalized to your brand."
"Chat Transcripts for Dynamic Chat: View chat transcripts for every conversation to obtain deeper insight into each web visitor's interest."
"Sales Insight Integration with Dynamic Chat: Insights Dashboard now includes Dynamic Chat activities in the Smart Grid and a weekly summary and detail cards."
"Auto Arrange Dialogue streams for Dynamic Chat: Improve your crowded Dialogue canvas by organizing everything on the canvas into a clean and easy-to-read format with the press of a button through Auto Arrange."
"Meeting Links for Dynamic Chat: Option to automatically include a Teams or Meet link for Google and Outlook in every calendar invite sent to visitors."
"Support additional data types for Dynamic Chat: Three new data types (Boolean, integer, float) allow you to leverage more existing Marketo Engage fields in Dynamic Chat for things like targeting based on scores or asking visitors yes/no questions."
Let Perficient Help You Set Up Dynamic Chat!
There are a wide variety of use cases for Dynamic Chat, and as an out-of-the-box feature of Marketo, it can be a great option to launch quickly. Contact us today to see how we can best assist.