Charity work is all about doing something for those in need. Charity can give you the mental satisfaction and joy of giving. The altruistic behavior releases endorphins in the brain producing the positive feeling.
Perficient always extends its hands for mental and physical health. Be it yoga, cycling, or strength training, Perficient comes forward to support and encourage the employees. This time, Perficient plans a new game in their altruistic initiatives – to pump up the double production of endorphins in the brains and improve the employees' physical health and mental satisfaction. There is only one way – run for a cause.
When a person participates individually in a marathon, it is two birds one stone. A single participant runs for a good cause and good health. When the company friends participate together to run, it is like a million birds with one stone. A group of Perficient employees joined together to participate in the marathon and benefited more than that. They inspired, motivated, and supported each other to run together. They gained a stronger emotional connection and sense of victory together. More than that, they shared a Perficient culture worldwide. Perficient sponsored the interested employees, and they were proud to join with 20,000 runners in Chennai Marathon 2023 under different categories – 6 Miles (10kms), 16 Miles (21 Kms), 20 Miles (32 Kms) & 26 Miles (42 Kms).
It is all for a cause – Type 1 Diabetes (T1D).
Chennai Marathon is being conducted first weekend of every year for various awareness and charity for the last 10 years. The Year 2023 is to create awareness and raise funds for Type 1 Diabetes (T1D).
India is often referred to as the Diabetes capital of the world.
"TYPE 1 DIABETES (T1D), once known as juvenile diabetes or insulin-dependent diabetes, is a chronic auto-immune condition in which insulin-producing beta cells are mistakenly destroyed by the body's immune system. T1D occurs primarily in children and young adults (0-20 years). Despite all the advancements in science, T1D does not have a cure. Once detected, the only way to continue to function for the rest of their lives is through injecting insulin (4 -6 injections a day) and by mandatorily checking their blood sugar levels at least 4 times a day to avoid complications that occur due to uncontrolled high and low sugar levels."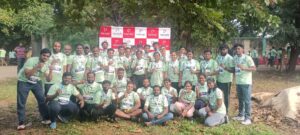 Our runners' views about their new found experience : 
Karthik Mariappan – Technical Architect 

1) Morning jog keeps me fresh for the entire day and doing it on a Sunday at a Marathon is more fun.
2) My perspective of the marathon is not about winning but cherishing the moment of having a great time in the early hours in the open.
3) Spending money for our health and fitness benefit, also for good cause as all the money goes

Loganathan Janarthanan – Lead Technical Consultant

This is my first international half marathon (21 km) with Chennai Runners. This year's most anticipated event kicked off the new year on a high note. Thank you to the Perficient team and Chennai Runners for the fantastic arrangements, and my heartfelt gratitude goes to the Chennai Police and Tamil Nadu Police for ensuring the event ran smoothly.
This marathon taught me to get up early, to be punctual, and, most importantly, to smile at everyone and live a healthy life.
Other participants in the event gave me more confidence to speed up the jogging. I finally completed my 21.096 km in 2 hours, and 51 minutes.

Kiruthiga Nagarajan – Senior Technical Consultant

Sincere Thanks to Perficient for the opportunity to participate in Marathon organized by Chennai runs on Jan 08th, 2023.
Felt wonderful to participate in the marathon on Sunday Morning.
Did learn the city Routes through this marathon.
Once again thanks to everyone involved in organizing this.

Anuradha Ramachandran – Senior HCM Manager

A great start to a New Year!!! Participating in a Marathon has been on my wish list for a long time, and I keep moving it to the following year…It was my first Marathon experience so absolutely loved it. With no practice, I did not expect to make it. Thank you Perficient and the Amazing team for organizing this, absolutely loved it!!! Many more to come
This slideshow requires JavaScript.