Our Sixth Program Cohort is Now Accepting Applications – Apply Today!
At Perficient, we believe innovation is best achieved when every perspective is considered. That's why we're taking steps to educate and create employment opportunities within our communities. Created almost two years ago, our award-winning Bright Paths Program is advancing STEM education and career opportunities to underserved communities and constituencies, while aiming to close the employment gap that exists in the technology industry among women and minorities.
Today, we're proud to announce that the Bright Paths Program is expanding to Dallas, Texas, a community filled with emerging tech talent, for our sixth program cohort.
Since launching Bright Paths in late 2020, nearly 125 students have progressed through the program, with the vast majority accepting roles with Perficient in the software engineering and development field. Those interested in the Dallas Bright Paths Program can learn more and find applications here. Applications are open until October 5, and up to 25 students will be accepted.
LEARN MORE: Three Bright Paths Graduates Explain Why They Applied to the Program
You Can Learn the Skills to Become a Software Engineer for Free!
Perficient has developed this custom bootcamp in partnership with Strayer University's Hackbright Academy, a coding bootcamp and software engineering program designed for women, and DevMountain, a design and coding bootcamp specifically designed to equip minority students from underrepresented communities with the skills to start their journey toward a career in technology.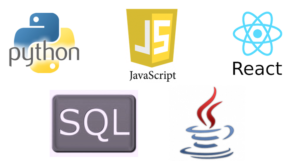 Our 16-week fully funded, customized coding bootcamp is designed to prepare students for the workforce and study in-demand programs such as Python, JavaScript, Java, React, and Structured Query Language (SQL). During the first eight weeks of the program, students will complete coursework focusing on the foundational concepts of coding. For the remaining eight weeks of the program, students will then choose a specialty focus track and develop their own applications.
READ MORE:  Five Program Graduates Discuss Their Custom Applications
By the end of the 16-week program, Perficient's goal is to extend qualified graduates a job in the software engineering and development field, where new colleagues will have the opportunity to partner with the world's largest enterprises and biggest brands.
Anyone living in or near Dallas who is interested can visit our Bright Paths Program landing page to learn more and apply for the upcoming cohort. For those who apply and are accepted into the program, here are Four Pieces of Advice to Incoming Bright Paths Students from program graduates, now Perficient colleagues.
---
Ready to grow your career?
We're thrilled to bring the Bright Paths Program to Dallas, and we can't wait to see curiosity, innovation, and professional development unfold in the upcoming cohort. Anyone interested in pursuing a career in technology is encouraged to apply for the Bright Paths Program.
At Perficient, we continually look for ways to champion and challenge our talented workforce with interesting projects for high-profile clients, encourage personal and professional growth through training and mentoring, and celebrate our people-oriented culture and the innovative ways they serve Perficient and the community.
Visit our Careers page to see career opportunities and more! Go inside Life at Perficient and connect with us on LinkedIn, YouTube, Twitter, and Instagram.