In this blog post I will show you some exciting functionality that is available in Oracle Analytics Cloud (OAC).  It is the kind of functionality that you rarely see in front end reporting and visualizations platforms – either before the Cloud or even after the advent of the Cloud.  It greatly empowers end users to accomplish data management tasks with little to no assistance from IT.
Oracle ADW stands for 'Autonomous Data Warehouse'.  ADW is Oracle's Cloud-based, fully managed, high performance Cloud data warehouse that runs on Oracle Exadata specialized database machines.  An ADW data warehouse can be provisioned in minutes, can scale to petabyte level, can be turned on and off by the end user and supports cloning of entire databases in a couple of minutes.
In this blog post I will show you how to load data into ADW using only Oracle Analytics Cloud (OAC) functionality.  No code will need to be written.  I won't have to use SQL development tools.  I won't even have to create the target table in ADW.  OAC will do that for me.  Also, I am not loading just one file.  I will load two files and join them on a common value before I load them into the target ADW table (similar to using vlookup to join two Excel sheets on a common value).
I will do this using the free trial versions of Oracle ADW and OAC.  So anyone with a credit card can immediately try this themselves (your card will not automatically start to be charged after the end of the free trial.  Your trial will expire after 30 days without a charge unless you choose to continue and pay going forward).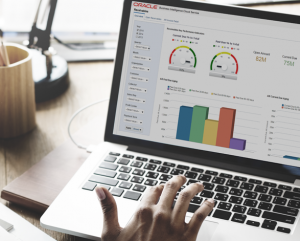 Explore key considerations, integrating the cloud with legacy applications and challenges of current cloud implementations.
Let's get started!
Set Up the Trial Versions of Autonomous Data Warehouse (ADW) and Oracle Analytics Cloud (OAC)

Establish Connection from OAC to ADW
Upload Excel Files from Local Drive to OAC Data Set Storage Area
Set up and Run Data Flow in OAC to Load Data into ADW
Use OAC to Create Data Visualization Against Data in ADW for Analysis
There is a tremendous amount of powerful functionality in ADW and OAC.  The trial versions are a great way to try out the functionality with no strings attached.  Explore and have fun!