Over the past few months Microsoft has discussed the concept of Bring Your Own Trunk (BYOT) which was briefly outlined in their roadmap. Then, in March Microsoft announced this capability to the public and termed this "Direct Routing." In this article I will quickly recap what Direct Routing entails and then discuss the requirements for the Direct Routing Public Preview.
What is Direct Routing?
Direct Routing (I honestly like BYOT better, but I do digress) is the capability of Phone System (previously called Cloud PBX) in Office 365 to help customers connect their SIP trunks to Microsoft Teams. In the simplest deployment model, customers would start with their existing SIP trunks from their telecommunications provider. Next, they would need to configure their supported Session Border Controller (SBC) from one of the certified partners (AudioCodes, Ribbon Communications, ThinkTel). Finally, they would connect that SBC to Microsoft Teams and Phone System.

Customers will also have the ability to integrate with their 3rd party voice applications. Some of these scenarios might include:
Easy transition to Calling in Teams – Integration with an existing PBX
Telephony System Inter/Op. – Coexistence between Call Center agents using their application and users leveraging Calling in Teams
Support for analog devices – Analog devices like overhead pagers, elevator phones, etc. can be connected with Teams and Phone System via Direct Routing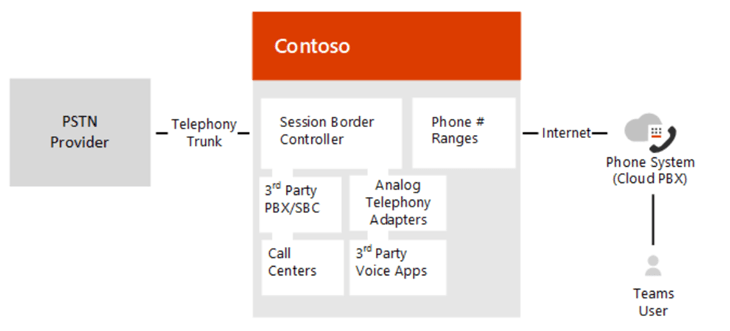 Note:  Direct Routing is only supported for Teams. However, Microsoft do have a clear migration path to get you there from Skype for Business Online CCE or via on-premises Skype for Business pool. Microsoft will be providing more information on this in the coming months.
Recently, Microsoft has released Direct Routing for Public Preview. This means that providing your country is supported by Teams and Phone System, you can start a self-managed preview of Direct Routing.
What are the requirements to participate in this Public Preview?
If you choose to participate in this preview, you'll want to focus on these key areas prior to implementing Direct Routing:
Office 365 – Ensure your O365 tenant is ready for Direct Routing by having Teams working and ready to use. Make sure you have already begun piloting Teams prior to getting started with Direct Routing.

You'll also want to ensure you have proper licensing in your tenant (Phone System). The Phone System license can be acquired as part of the E5 license or separately.

Session Border Controller (SBC) – A SBC is essential for Direct Routing. You will need to use a SBC that has been certified by Microsoft to ensure compatibility. Please review the content for Direct Routing from AudioCodes, Ribbon, and ThinkTel to understand their offers and start a pilot with them.
Voice Trunk – Reach out to your telecom provider to discuss adding new voice trunks or leveraging your existing trunks.

Microsoft does not certify the SIP trunk but rather the SBC. As long as your SIP trunk has connectivity to a certified SBC, this will fulfill the requirement.

Getting Started – Many customers are new to Teams and with this comes the need for guidance. You'll reap more benefits by becoming comfortable with Teams prior to implementing Calling. Microsoft also recommends that you look at the following articles for some additional guidance around planning and configuring Direct Routing:
After reviewing the content, you should be ready to dive in head first! Well… okay… maybe just test the waters first. 
If you still aren't feeling too confident in starting this process, Microsoft has also recorded a deep dive on Direct Routing to further aid in your understanding. If you're looking for more information on this blog post, check out the original post on Microsoft's Tech Community. As always, stay tuned! Microsoft has had some exciting announcements over the past few weeks and I expect to hear more exciting news shortly.