One the key struggles that most business are struggling with is the creating an experience that is consistent across all channels. In this 2018 Adobe Summit session Haresh Kumar and Nick Whittenburg from Adobe lay the ground work for how Adobe cloud solutions allow your business to achieve a fluid experience across mobile journeys.
As users are adopting new and emerging channels, they are moving from device to device and channel to channel. The ability to seamlessly deliver consistent experiences across all these channels is complex and challenging. The "Secret Agent" ad is a great way to demonstrate how the disparate systems that happen as a business has data in siloes across various legacy and emerging systems impacts our users.


The main ideas from this session were split between two key ideas:
Connected experience drives brand engagement.
Architect content for reuse across channels.
Connected experience drives brand engagement.
The connected experience is so much more than just web site. Since the inception of the Internet of Things (IoT) the ability to consume content an any number of devices has grown exponentially in the past ten years. As of last year, more than 50% of internet traffic comes from devices other than computers.
Consumers are not only connecting through many different devices, but they require content be contextual and personalized. Users found the following aspects in their experience to be unacceptable :
44% — The content was poorly written or too wordy.

42% —

The content is not relevant to me or my situation.

33% —

The experiences is poorly designed.

29% —

The experience is not optimized for my device.

26% —

The content is too personalized to where it is creepy.

24% —

Content that is old or stale.

16% —

The experience lacks rich media or images.
Two-thirds of users would not purchase from a brand if any of the annoying aspects where present in their experience.
These user are not just experiencing brand on a single device either, more 55% are either constantly or frequently on multiple devices versus the 27% who are sometimes or the 19% who do so rarely or never.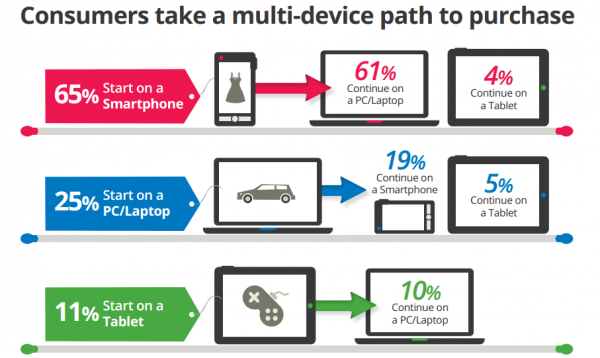 Customers are engaging on multiple channels throughout the purchase process as shown in this chart.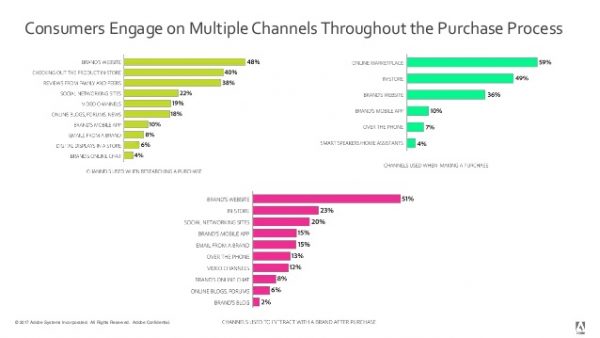 Architect content for reuse across channels
Content consumption is rapidly changing. This is being driven via new formats like; voice, VR, AR and 3D. And consumed via new channels like Voice IoT, chatbots, connected cars, and wearables, as well as, more mature channels like social media, customer support and the website.
To meet this challenges, content architecture must be fluid. The fluid experience is optimally delivered experiences across a wide range of touch points and formats including headless. The experience is multi-screen, multi-channel, adaptable and independent of form factor.
This spans:
Digital
Mobile & native
Screens
Off-site digital
Field Sales
Chat & voice
Wearables
IOT
Anywhere commerce
The fluid experience is the foundation for hybrid delivery. This architecture is based on three core features of the Adobe Experience Manager (AEM) that provide the ability to ensure this fluid experience:
Content Fragments — This concept calls for the design, creation, curation and use of page-independent editorial content with embedded or associated media.
Experience Fragments — The group of components with layout that live independently.
Content Services — This is the zero-code environment with access content from AEM to deliver to any channel.
Content Fragments
Content fragments are created and managed as page-independent assets. They allow the creation of  channel-neutral content, together with channel-specific variations.
Content fragments are:
Editorial Content

Text written by copy writers
Elements, paragraphs & variations

Mixed Media

Images in paragraph sequence
Images more strictly curated and relevant than with associate collections

Summarization

Goal-based shortening of text
Editorial goals achieved with AI assistance
This is an example of the content fragment in practice.

Experience Fragments
Experience fragments are group of components that may include content and layout that can be referenced within pages.
Experience fragments are:
part of an experience that in itself makes sense.
one or multiple components with a layout within a paragraph system.
may be combined with other Experience Fragments to a complete experience/page.
may be reused, reordered and resized across pages.
may have different variations and may share content and / or components.
is based on a template to define structure and components.
This is an example of the experience fragment in practice.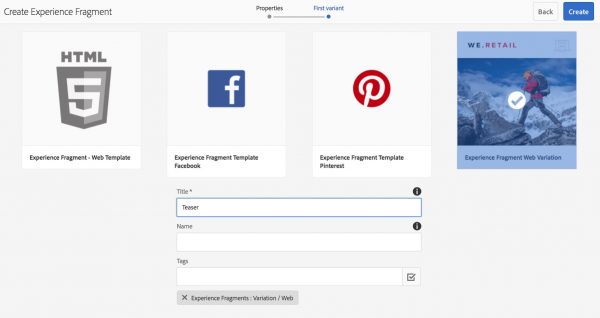 Content Services
This is the zero-code environment where content is independent of layout and repository allowing delivery to any channel.
Content Services are:
Channel agnostic reuse of content that may be in Assets or part of a Sites project
Out of the box, extensible content models
Automatically generated service endpoints
Through this model your content can no be repurposed without recreation. To fully realize this level of content actualization requires that there be an effect content strategy that take into account all the potential channels.
Conclusions
Through the use of the key features of Content and Experience Fragments paired with Content Services as the generate consistent content across many channels is the goal of the fluid experience.
Learn how Perficient Digital can help your organization realize the power of the fluid experience using Adobe solutions.